India may have blown away Afghanistan within two days in the recently concluded one-off Test, but Ajinkya Rahane's form has been a hot topic. Another paltry score by the stand-in Indian skipper brings forward questions on the mindset of the player, who has been short on confidence.
In five overall Tests now, Rahane hasn't managed to get a single fifty. Moreover, issues at home continue to loom large for the player, whose lapse of concentration helped Rashid Khan get the better out of him in another lacklustre knock.
With KL Rahul taking his chance in a positive manner, the near future for Rahane doesn't look assured. Here is a player battling issues with his form and time could be running out sooner than later. India's tour to England, starting July, presents Rahane with a crucial opportunity to show why he is better suited overseas. Another failure in August could lead to a tussle for a slot in the playing XI.
There is plenty at stake not only for Rahane with other players like KL Rahul waiting in the wings. The Indian selectors, off late, have followed the perform or perish mantra and may well decide to hand his place to someone as India has an important season coming up. Rohit Sharma has seen that in the longer format. Rahane now is in a similar territory.
Rahane's poor show with the bat, especially at home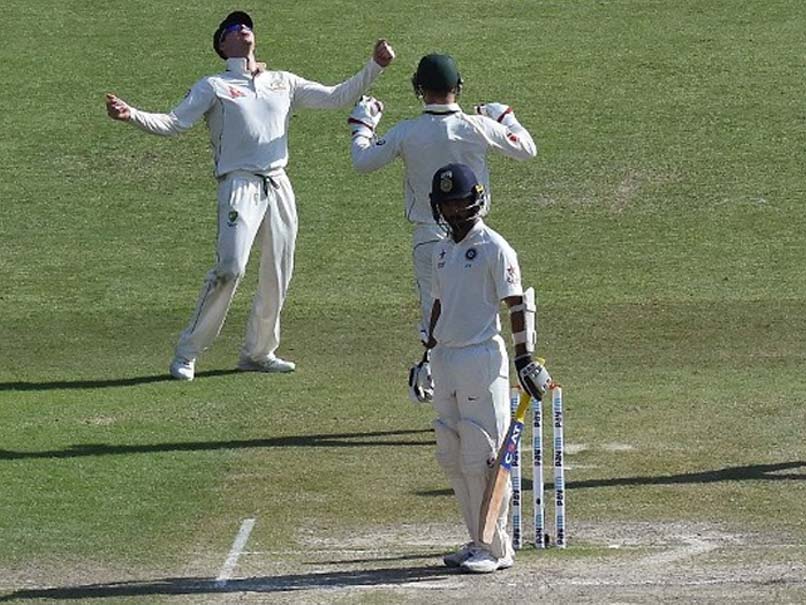 The struggle for Rahane at home conditions has been a telling story. A failure against Sri Lanka in November 2017, saw him score just 17 runs in three Tests as he struggled against quality spin attack.
He has especially struggled against leg spin and left-arm orthodox bowlers at home. Also against pacers as well he has not quite been at his best. His dismissals against Sri Lanka back in 2017 were mainly soft ones. He tried too hard at times to come strong in situations that needed his calmness.
Prior to that, he has had a decent time at home, barring the series against England in 2016. He had scored 63 runs in four innings back then. Therefore it has been more of a recent struggle.
Against Afghanistan too, a 40-ball 10 looked laboured, where, for most parts, the player looked unsure of himself. Once again he got dismissed to a leg-spinner. 27 runs in four Tests at home in recent times signals that Rahane will need to better himself considerably. India's next Test series at home is against the West Indies in October.
The talented right-handed batsman showed his steel in the 2nd innings against the Proteas with a valuable 48 runs earlier this year. That was the only innings where we witnessed the usual Rahane, looking to settle down against a top quality bowling attack.
Besides that innings, it has been a string of low scores and based on his experience, the selectors kept picking him though. But for how long? The Mumbaikar will know that Rahul could be pushing him all the way and there will be immense pressure on Rahane, given he has already lost his place in limited-overs cricket for India.
Performances in India and overseas

In India, the middle-order batsman has played 20 Tests, scoring 1019 runs at an average of 32.87. When one brings the overseas performances into account, Rahane has a produced a better show outside Asia. He has 1369 runs in 18 Test matches which includes four centuries. Given, that India's next big tours are overseas, Rahane will definitely be selected.
When you look at his performances in Australia, New Zealand, South Africa and the West Indies, he has delivered the goods, with tons in each of this nations. For a player like Rahane, who has played 17 out of the first 18 Tests away from home, he is naturally inclined to play better abroad.
India will play five Tests against England, which is followed by another four-Test series against Australia in 2018-19. A lot depends on how the management steps up and makes a decision on whether to go ahead with the Indian Test vice-captain over KL Rahul. This is because of Rahane's current form in question. Perhaps for the initial Test against England, that could be the way.
Rahane is known to be patient and is more suited to the conditions outside the sub-continent. With the likes of James Anderson and Co. steaming in swinging conditions, the 2014 series will aid Rahane in knowing what to expect.
The challenge will be the Tests at the Oval and Manchester, where England are at their best mainly.In the 2014 series, Rahane had a decent tour of England, but it was these two grounds where he faltered.
This time he has the chance to rectify the same and put in the work collectively. A lot will depend on his solid footwork, which has been absent of late. Rahane cannot just bask on the previous glory and the moment is now. It's more of a fresh start for the player.
Rahane needs to redress an imbalance in his career numbers, with considerable difference in his home and away performance. In the immediate context, though, Rahane needs to focus now on England and take it from there. Outside Asia is his forte.
Will KL Rahul stake a claim?

Against South Africa earlier this year, Rohit Sharma was preferred ahead of Rahane, before the latter made a return in the third and final Test. Now with Sharma out of reckoning once again, Rahane has to battle it out with Rahul. The defiant 54-run knock against the Afghans saw the in-form batsman play positively, as he applied himself well and stuck to his task to lay India's first innings foundation.
Rahul played freely from the start and showed the stark contrast of form.  One wonders how does the Indian management see Rahul in the batting scenario? He is definitely the 3rd choice when it comes to opening the batting behind Shikhar Dhawan and Murali Vijay.
But where does Rahul come in as a middle-order batsman? Will he come in the crucial position at number five? That's the slot available if Rahane is dropped in favour of him. The Bengaluru boy has mainly played as an opener and against Afghanistan came in at number three ahead of Cheteshwar Pujara.
When you look at Rahul, he has played more in Asian conditions than outside the sub-continent. In India, Rahul has been a genuine run-getter. But has he played enough abroad? He has two tons though against Australia and West Indies respectively. Against South Africa earlier this year, he started well but fell to the trap set by the in-form pacers. He managed 30 runs in four innings.
The England tour will be a challenge for Rahul, given it is his first one and also how does he come across genuine swing bowlers. But then apart from Rahul, there isn't anybody at the moment to stake a claim.
One may think Rahane fills in as the better option given his experience abroad.