The Indian cricket team has always been proud of its ability to produce world-class batsmen and similarly potent spinners. Though in recent times, the Indian fast bowlers have led the bowling attack, spin still remains the king at home in India.
For a long time, it was the reign of finger-spinners in the team right from the days of Bedi, Prasanna and others to Rajesh Chauhan, Ravi Shastri, and Harbhajan Singh, Ravindra Jadeja, and R Ashwin, to name a few.
However, in current times, the focus has been more on wrist-spinners because of their wicket-taking abilities on any surface.
A veteran of over 100 Tests and over 400 wickets, Harbhajan Singh had expressed concerns about lack of finger-spinners.
He also felt that the art of off-spin is dying as teams are preferring wrist-spinners as they are more likely to pick wickets. And it's true as well, with Kuldeep Yadav showing lots of promise in his young India career so far.
However, there are many finger-spinners in the Indian domestic circuit who are just waiting for their chance to come and show the world that they have perfected their craft enough to be on the international stage and taking on the best batsmen in the world.
There have been cases like Padmakar Shivalkar, Rajinder Goel, and others who just couldn't break into the Indian team due to their careers clashing with Bedi and Prasanna. But today, we present to you the five potential answers to the Indian team's difficulty of finding a potent bowler going forward.
Here are 5 spinners who can be India's potential finger spinners
Dharmendrasinh Jadeja
Saurashtra recently won the Ranji Trophy in 2019-20 season after being runners-up last season.
While they boast of some amazing batting in India regular Cheteshwar Pujara and bowlers like Ravindra Jadeja and Jaydev Unadkat. One bowler has stood apart thanks to his craft and the ability to pick wickets when needed the most is Dharmendrasinh Jadeja.
He was a star for Saurashtra in the 2018-19 Ranji season with 59 wickets to his name with the best figures of 7/55.
Dharmendrasinh had made his FC debut in 2013 and has played 60 matches so far, picking 237 wickets. His average is 28.32 and he has 15 five-wicket hauls and 4 ten-wicket hauls. He picked up 32 wickets in 11 matches to help his team win the title.
Jadeja has been always in contention for a call-up but Saurashtra's inability to win the title when he picked 59 wickets probably kept him from getting into the team.
He has the know-how of how to bowl on different pitches in India and can do well outside the country also, somewhere the national team has struggled to find success with Ashwin.
Parvez Rasool
The lad from Jammu and Kashmir, Parvez Rasool made his home town proud when he became the first from the region to play for the national team. He has played one ODI and one T20I each and has picked a total of three wickets.
Unfortunately, he just fell down the rung because of his non-performances in domestic cricket for some time, but he has gathered himself back in the last two seasons with 31 and 35 wickets respectively, as J&K reached the quarter-finals for the first time.
The right-hand off-spinner has both experiences and youth on his side being just 31 years old. He had first made the noise of the right kind when he picked seven wickets against Australia for Board President's XI in 2013 and also earned an IPL contract with Pune Warriors, becoming the first from J&K.
Rasool is also a gun batsman, making 4807 runs in 82 FC matches with 12 centuries to his name and has picked 266 wickets with the best of 8/85 and it shows that not only does he know his craft with the ball very well, but can come handy with the ball as well.
It can be said that with R Ashwin struggling a bit despite his return against South Africa last year, his fitness is something to be looked at and Rasool maybe that man to take his place, given the edition of his batting.
Jayant Yadav
Jayant has already played four Tests for India, picking 11 wickets, but he is more famous for his century against England from the no.9 batting position. The Haryana lad needed some time off due to an injury and since then has been struggling to push his way through back into contention.
He has 162 wickets in 61 FC matches with 7/58 as his best bowling figures, while he has 2172 runs as well with the best of 211. Yadav is perhaps one of the best bets when it comes to playing for team India, as he is regularly playing in IPL for various franchises and won the IPL 2019 with the Mumbai Indians.
Yadav gives the team that surety of bowling at one end continuously while not giving away many runs and his batting is just an added bonus and something that can come in handy in times when the Indian team has lost a few wickets in the bunch or needs some quick runs from the lower order.
Jalaj Saxena
Jalaj Saxena is one of the veterans who has been knocking on the doors of the Indian team for a long time. The 33-year-old has played FC cricket since 2005 and has played 123 matches, picking 347 wickets and making 6334 runs.
He has 21 five-wicket hauls to his name to go with 5 ten-wicket hauls as well with the best bowling performance of 8/45. However, for some reason, the selectors have ignored him to the best of their abilities. He has regularly made the India A squads who play against the visiting teams and performed well.
He has the most wickets in Ranji Trophy since the 2015-16 season with 159 scalps in 63 innings. He had once said in an interview with Sportstar, "The motivation is always to play for India. I wake up every morning with this hope." He may be on the wrong side of the age spectrum, but that doesn't mean he has to be overlooked for just that reason.
He is supremely fit and has played well for every team he has turned out for, but now is the time to give him the look in, especially when your star bowler needs some backup in terms of finger spin, with someone who has experience of bowling in these conditions.
Shahbaz Nadeem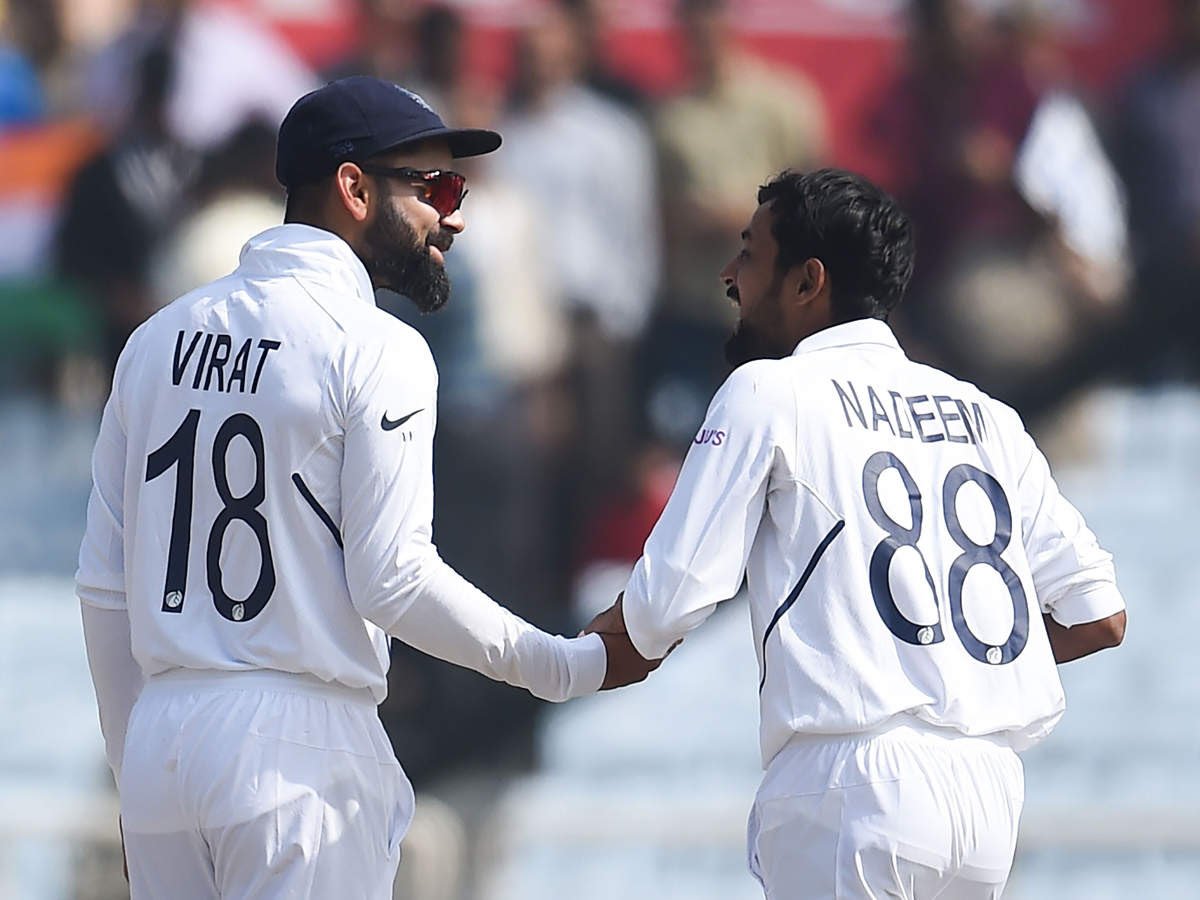 Shahbaz Nadeem has been toiling hard in the Indian domestic circuit since 2004 for Jharkhand and finally got to don the Indian jersey on his home turf in Ranchi, against South Africa last year. He picked four wickets in his debut Test, but it remains to be seen whether he will play a second one.
But one thing is sure that he is at the top of the rung when it comes to selectors calling up any finger spinner to aid Ashwin and Jadeja on rank turners. The 31-year-old is a veteran of 117 FC matches and has picked 443 wickets at an average of 28.66. He was recently in the news for creating the world record of picking the best figures in a List-A match, as he took 8/10 against Rajasthan.
Meanwhile, on the FC front, Nadeem has kept himself in contention and in the eyes of the powers that decide, with amazing performances every now and then. He has been regularly part of India A teams which play both at home and abroad and has a terrific record there as well. Apart from this, he has shown his might in IPL as well.
It's just the selectors need to show some faith in him and he will give you the results, giving his fighting attitude and he is no mug with the bat as well, with one FC century and over 2100 runs as well.
Follow us on facebook for more sports news & updates