As per a recent report from Onefootball, La Liga's top three clubs – Barcelona, Real Madrid and Atletico Madrid – account for 12 of the top 20 most expensive transfers of all time.
This goes on to show that traditionally, La Liga clubs have been big spenders, and moreover, the Spanish first division has been graced by some of the biggest names in world football.
Last summer itself, the three aforementioned clubs spent at least €100 million each on players like Antoine Griezmann, Eden Hazard and Joao Felix.
The trio are yet to fully establish themselves as superstars in the league, but given the spending capacity of the Spanish teams, we decided to make a playing XI consisting of the most valuable players in each position in La Liga.
Goalkeeper – Jab Oblak (Ateltico Madrid, €80m)
Atletico Madrid's Jab Oblak is arguably the best in his position at the moment. The Slovenian arrived from Benfica in 2014, for a fee of €16 million, and he's been worth every single penny.
Oblak has racked up a total of 245 appearances for Atletico, keeping 133 clean sheets with a ridiculous save percentage of 80.2%, highest for any goalkeeper since 2014. This season too, the 27-year-old has kept 11 clean sheets in La Liga, second only to Real Madrid's Thibaut Courtois (12).
Right-back – Dani Carvajal (Real Madrid, €40m)
Having begun his footballing career with Real Madrid's La Fabrica, Dani Carvajal has well established himself as the club's go-to man for the right-back position.
The 28-year-old has played 269 matches for Los Blancos across all competitions, chipping in with six goals and 45 assists, which clearly highlight his attacking output. Carvajal is also the best in his position for Spain, having earned 24 caps for La Roja.
Centre-back – Raphael Varane (Real Madrid, €64m)
Blessed with immense speed and a calm head, Raphael Varane is one of the most underrated players in La Liga. The French World Cup winner has already won 17 trophies with Real Madrid, and he's only 27 years old.
Varane has been with the All Whites since 2011, having amassed a total of 309 appearances in that duration. He has also scored 15 goals and provided seven assists for Real Madrid.
Centre-back – Jose Gimenez (Ateltico Madrid, €56m)
The Uruguayan has been with Atletico Madrid since 2013, and in that period, Jose Gimenez has made 180 appearances for Los Rojiblancos. He is well-renowned for keeping things tidy at the back, courtesy of his well-timed tackles and excellent aerial ability.
Gimenez is one of the most consistent players in his position in La Liga and at Atletico Madrid, he is one of the first names to go on the teamsheet, especially since the departure of former skipper Diego Godin.
Left-back – Jordi Alba (Barcelona, €40m)
A product of Barcelona's famed youth academy 'La Masia', Jordi Alba has been and still is, the best left-back in La Liga. He has played 325 matches for the Blaugrana and was a mainstay in the Catalan giants' glory days.
The Spaniard has lost a bit of pace lately, but his marauding runs down the left-hand wing still pose a big threat to opposition teams, as does his telepathic connection with Lionel Messi. Alba has racked up a tally of 17 goals and 60 assists during his time at the Camp Nou.
Holding midfielder – Casemiro (Real Madrid, €64m)
Casemiro has been the heartbeat and spine of Real Madrid, a team which simply loves to go gung-ho in attacks, and the Brazilian is the one who keeps thing tidy in the middle of the park. Since joining from Sao Paolo in 2013, he has turned out in a Real Madrid shirt 229 times.
Arguably the most consistent in his position, the 28-year-old never gets the credit that he deserves. Instead, Casemiro continues to do his job selflessly, week in, week out, without any fuss.
Central midfielder – Saul (Ateltico Madrid, €72m)
Interestingly, Saul began his career at Real Madrid, before crossing the divide to join Atletico Madrid's youth academy. Since then, he has developed into one of the most influential players for Los Rojiblancos, having already played 286 matches for them, despite being just 25 years old.
The Spaniard has contributed 38 goals and 18 assists, but keeping the numbers aside, his work ethic and versatility have seen Saul getting linked with Manchester United on numerous occasions.
Central midfielder – Frenkie de Jong (Barcelona, €72m)
The youngest player on this list, Barcelona's Frenkie de Jong is just 23 years old, but he's already making a name for himself as one of the best midfielders in the world.
A player who is good with both of his feet, the Dutchman is well renowned for his smooth dribbling and silky passing attributes. De Jong has played 37 times for Barca in his debut season and has contributed with two goals and two assists.
Right-winger – Lionel Messi (Barcelona, €112m)
Despite being the oldest player on this list, Lionel Messi is still the most valuable player in La Liga, and deservedly so. The Argentine has the ability to win matches on his own, which is why he is often referred to as the G.O.A.T.
The 32-year-old is enjoying yet another stellar season, registering 25 goals and 18 assists in 32 appearances in all competitions. Such is his brilliance that numbers fail to justify the talent Messi possesses.
Left-winger – Eden Hazard (Real Madrid, €80m)
Having lit up the Premier League with his surreal dribbling skills, Eden Hazard finally joined Real Madrid ahead of this season, but he's endured a difficult spell so far at the Bernabeu.
The Belgian has been pegged back by multiple injuries, but he's fit again and raring to go in the remaining 11 La Liga matches. The former Chelsea star could turn out to be decisive for Los Blancos in their bid to win the league title this season.
Striker – Antoine Griezmann (Barcelona, €96m)
Another big-money signing who has failed to rediscover his spark this season, Antoine Grizmann has scored 14 goals for Barcelona since his move from Atletico Madrid last summer.
It could be that Grizmann has struggled to adapt to Barcelona's passing game, and with time, he should come good. The 29-year-old could yet silence his critics by helping the Blaugrana win their third consecutive La Liga title.
Here's how La Liga XI consisting of the most valuable players in each position would line up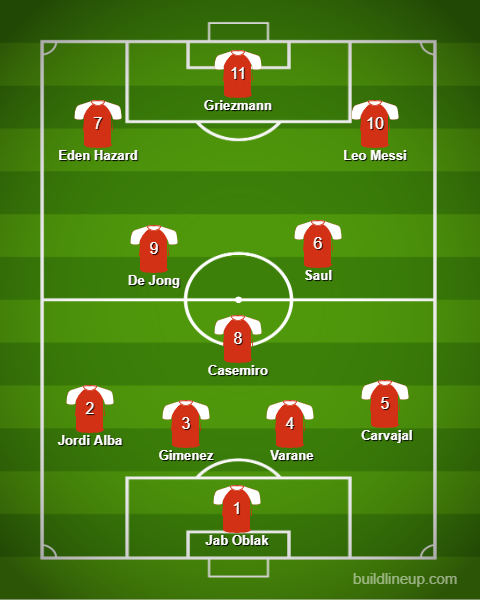 Players' value courtesy: Transfermarkt.co.in