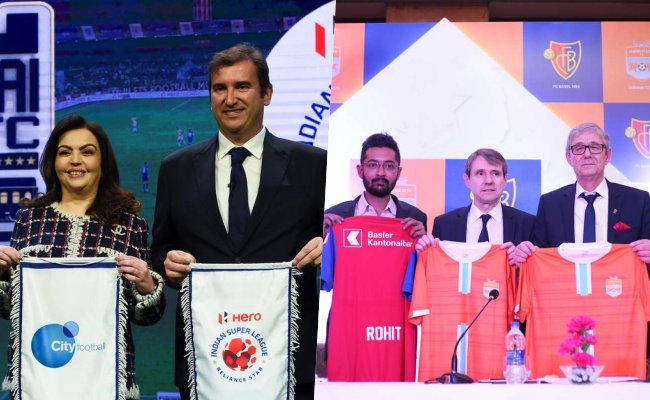 India's population of 1.3 billion is a great incentive to international companies as an investment market. Products, services and retail are the major sectors where international conglomerates have invested billions of dollars for bigger financial returns and brand visibility.
The 1983 cricket World Cup win was a watershed moment in the commercialisation and globalisation of Indian Sports. Indian football, acting as a second peddle to cricket in India, experienced slower growth in terms of the market economy.
However, at the advent of the 21st century with the telecast of the English Premier League, football in India also emerged a potential market for European clubs to invest.
In this article, we look at how European clubs have established an imprint in Indian football in the last two decades.
Partnerships and investments in Indian football
East Bengal and Leicester City's partnership is the earliest major tie-up between a European football club and an Indian football club. East Bengal tied up with the Foxes in the 2002-03 season as part of Leicester's Asian Community Outreach Programme in England.
East Bengal played Leicester in a friendly in England as part of the tie-up and lost 1-0. The Red and Golds also received a ceremonial dinner at the British House of Commons.
However, the partnership faded as the East Bengal officials did not focus much on the deal in the next few months.
JCT and Wolverhampton Wanderers (Wolves) penned a similar partnership on the lines of East Bengal and Leicester in 2007. The partnership saw JCT visit Wolverhampton to train for two weeks along with sharing of knowledge. The deal was also part of Wolves' community outreach programme to Indians living in England.
The maiden Indian Super League (ISL) season in 2014 was a catalyst for European Clubs to rekindle their interest in Indian football after a period of stagnation.
Atletico Madrid owned 25% stakes in the Kolkata franchise, Atletico de Kolkata (now ATK Mohun Bagan) in 2014. The share-ownership showed glimpses of progress with tours, pre-seasons and sharing of players.
However, with Atletico Madrid unsatisfied with the focus of the Kolkata franchise on promoting Atletico Madrid's youth set-up in the city, the Spanish giants divested their share to RP Sanjiv Goenka Group in 2017.
Atletico Madrid came back with the intention of promoting their academy with a partnership with another ISL side Jamshedpur FC in 2018. The deal was supposed to focus on joint partnership between the esteemed Tata Football Academy and Atletico Madrid academy with emphasis on physiotherapy, video analysis and facility development.
Interestingly, the Tata Football Academy had a similar tie-up with Sheffield United in 2010 which did not show much success on terms of knowledge sharing.
ISL sides like FC Pune City and Delhi Dynamos (both now defunct) also had partnerships with ACF Fiorentina and Feyenoord Rotterdam, respectively but the deals were not fruitful for either party and were terminated within a year.
Hyderabad FC have also penned a similar deal with Borussia Dortmund in 2020, while ISL side (previously I-League) Bengaluru FC also share a technical partnership with Rangers FC.
The partnership has allowed JSW Sports ambassador and Indian Women's national team striker Bala Devi to make a switch to the Scottish Premiership side. Devi is currently with Rangers and has shown phenomenal progress as a player, thus making the deal a successful process so far.
I-League side Minerva Punjab (now Punjab FC) have a deal with German side Borussia Monchengladbach with focus on grassroots and youth development.
Amidst uncertain partnerships and disinvestments, City Football Group (CFG)'s investment in ISL side Mumbai City FC in 2019 is the finest example why Indian football's market can do wonders if marketed well.
With assistance from the Football Sports Development Limited (FSDL), Mumbai City FC sold 65% shares to the Manchester City FC owners. The deal has shown progress with CFG heavily investing in the Mumbai City FC roster for the 2020-21 season.
They have signed up big Indian Super League names like Hugo Boumous, Ahmed Jahouh and Mandar Rao Dessai. The Islanders are also in pursuit of Sydney FC striker Adam Le Fondre. Other than an extraterrestrial budget for the first team, CFG is also expected to open academies in Mumbai.
FC Basel's investment in Chennai City FC is the second running share-ownership in Indian football with Mumbai City FC. The Swiss side bought out 26% shares in the club, right after Chennai City's I-League 2018-19 triumph.
The investment is targetted at a future Chennai City football academy and a prolonged grassroots programme. The aspect of touring teams is also a possibility in the near future.
East Bengal and Chennaiyin FC were also in negotiations with Celtic FC and Inter Milan in the last few years but the deals never went through. Interestingly, CFG approached Mohun Bagan before finalising the deal with Mumbai City FC but agreements were never made possible.
Academies and international schools
Arsenal have six football schools in India. The first one came up in 2013 in Delhi and four other setups followed in the capital. The sixth centre came up in Bengaluru.
FC Barcelona also have four football schools in India. The Barca Academy programme in India came up in 2012 from Bengaluru and has now expanded to New Delhi, Mumbai and Pune.
The Manchester United Academy in Mumbai in association with Western Indian Football Association (WIFA) which came up in 2011 showed promise but has been shut down due to lack of interest from the England side.
DSK Shivajians partnered with Liverpool FC to open a football academy in Pune in 2014. The academy produced many players for India age-group teams. However, with DSK Shivajians shutting shop in 2017, the academy has stopped working as a feeder organisation with no parent club.
The academy is functional but has witness cost reduction over the years. Paris Saint-Germain (PSG) also run a football academy in Gurgaon.
The only Non-European club to feature investment in India is Boca Juniors, who also run a football school in Bengaluru.
Verdict
Foreign investments in Indian football are fruitful only if shares are divested for share-ownership. Partnerships and tie-ups have shown early promise but failed to continue their momentum.
Most of the partnerships are aimed at marketing the European football clubs in the Indian football market. In order to have fruitful opportunities, Indian football clubs have to focus on meaningful long-term tie-ups and divestment of shares to European football clubs.
International academies also focus mostly on their brand visibility and not on player production. The academies need to play in youth leagues and also focus on producing players to have greater outreach in their South Asian community in Europe and India.
Also Read: East Bengal and ISL need each other