England are back on track and how! After some horrendous performance from Eoin Morgan and co. nobody would have expected them to showcase such brilliance against the side with 'undefeated status', India. IND vs ENG in the Cricket World Cup 2019 England went back to the winning way and after a comprehensive win against India kept their top-four dreams alive. While the batters showed the way with the run-fest, the bowlers defended as expected with a good score on board. For India, despite the loss, they are very much is the queue, and standing comfortably at the second spot.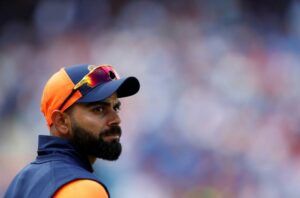 England Onslaught
England won the toss and did not hesitate to bat first. Post the match it was clear why they so confidently chose to do the same. Even Virat Kohli went on record saying that he would have loved to bat first. Jason Roy was finally back to the squad in place of James Vince. And that was a key move. Roy and Jonny Bairstow were in the mood of onslaught from the very beginning. They added 160 runs for the first wicket in just 22.1 overs. It was an assault from both end and Indians failed to counter. Roy scored 66 off 57 balls and Bairstow registered his maiden World Cup century. England reached 200 in only 30 overs and 400 runs were almost on cards. Bairstow and Eoin Morgan went on quick successions and finally, Indian bowlers had some control. But after a 10-over period of struggle, Ben Stokes took charge and played a scintillating 79 off 54 balls. With a handy cameo from Jos Buttler (20 off 8), England eventually put up 337/7.
Shami Shines, yet again
Jasprit Bumrah was in his usual good. Despite such an aggressive batting from England team he kept delivering the goods. His 10 overs went for just 44 runs where all his colleagues conceded runs at an economy rate of at least six. Mohammad Shami was at top-notch, yet again. He took five wickets and became only the second bowler to take three consecutive four-wicket hauls in the Cricket World Cup 2019. But Shami delivered too many easy balls that benefitted Stokes at the end. Indian spinners had a terrible day and conceded 160 runs for only one wicket in 20 overs.
Calculation went wrong

IND vs ENG witnessed India lost the early wicket of KL Rahul and although Rohit Sharma and Virat Kohli added 138 runs to laid the foundation. But they were too slow. Arguably the intent was to build the innings first. But they lost Kohli just when they were opening up. Rohit Sharma struggled to read the bowlers initially but ended with his third hundred of this tournament. Rishabh Pant was in for the much-anticipated number four slot. But it was only his first match in the World Cup. He was visibly nervous and unstable at the beginning. Although he scored29-ball 32 he looked uncomfortable throughout. But his partnership with Hardik Pandya did give some amount of hope to the Indians. Once he was gone, Dhoni walked in. The match was still a possible venture for India. Pandya did try his best with 45 off 33 balls and hit four boundaries. But post the dismissal of Pandya, it was almost gone from India's court.
MS Dhoni remained not out on 42 and Kedar Jadhav could add only 12 runs. During their partnership, the asking rate was rocketing with each ball. There was not much aggressiveness from the pair and it did seem like India understood the scenario and were playing accordingly keeping the run rate in mind. Technically even after yesterday's loss, India is safe at number two place. And a lot has to be done with NRR with a lost match. Another theory is although raising eyebrows questioning the ability and intent of Dhoni and Jadhav.
Records for Rohit & Kohli
India couldn't continue with their undefeated streak but even this match saw two of the finest ODI batsmen of India making records. Rohit Sharma became only the second Indian batsman to score three hundred in a single World Cup after hitting the ton against England in Birmingham. The first one to do this was Sourav Ganguly during the 2003 World Cup.
Virat Kohli became the only captain in the history of the World Cup to score five consecutive half-centuries. Earlier Steve Smith did the same in the 2015 World Cup as a player. Kohli registered a new record of repeating the act while captaining the side.
Plunkett and Woakes show
It was appropriate according to the conditions. There were constantly delivering a lot of slowers and cutters to trouble the Indians. And they were successful! Chris Woakes bowled brilliantly and scalped the openers. Liam Plunkett also got hold of three wickets but Jofra Archer went wicket-less despite bowling quite well.