To be fair to both Sebastian Vettel and Lewis Hamilton, two modern heroes of the most coveted theatre of Grand Prix racing at its very best, the victory belongs to the one who kept his cool under duress if not against overwhelming odds.
Never did Vettel seem any inferior a driver, at least for the better part of the season until the break came along, in all fairness, fighting fire to fire, rising from the back of sudden defeats, however, only to realise- if one might argue- that victory embraces not necessarily the fastest but perhaps to the one who gives it his everything, right till the end.
If anyone was to create his own version of the best moments of Lewis Hamilton for 2018, then perhaps writing a chapter as both- an introduction and an epilogue- would belong to Lewis Hamilton's tirelessness when it comes to extracting the best from his craft. And maybe in that rests the key to unlocking the heart of a bloke who's all set to become a five-time world champion.
In the next few days, the 2018 season find it's next world champion in Lewis Hamilton. Unless a miracle were to strike, there's hardly a question about Hamilton emerging with the top honours where both mathematical and sentimental standpoints matter.
But for fans of the red-liveried cars, this won't be a picture perfect moment.  Surely, from where one sees, there would be fans who wouldn't refrain from offering their two cents referring to the circumstances in which Hamilton bagged the season, that now, seems just a matter of formality.
That there were team orders is something that cannot be debated. And therefore, that Bottas, who roams winless this season helped Mercedes' top-draw on occasions is hardly a doubt. But having said that, what were the major breakthroughs that Lewis achieved that eventually manifested in another thumping triumph?
Kyrosports present you the best moments of Lewis Hamilton in 2018-
Silverstone- P2, having fallen to the back of the grid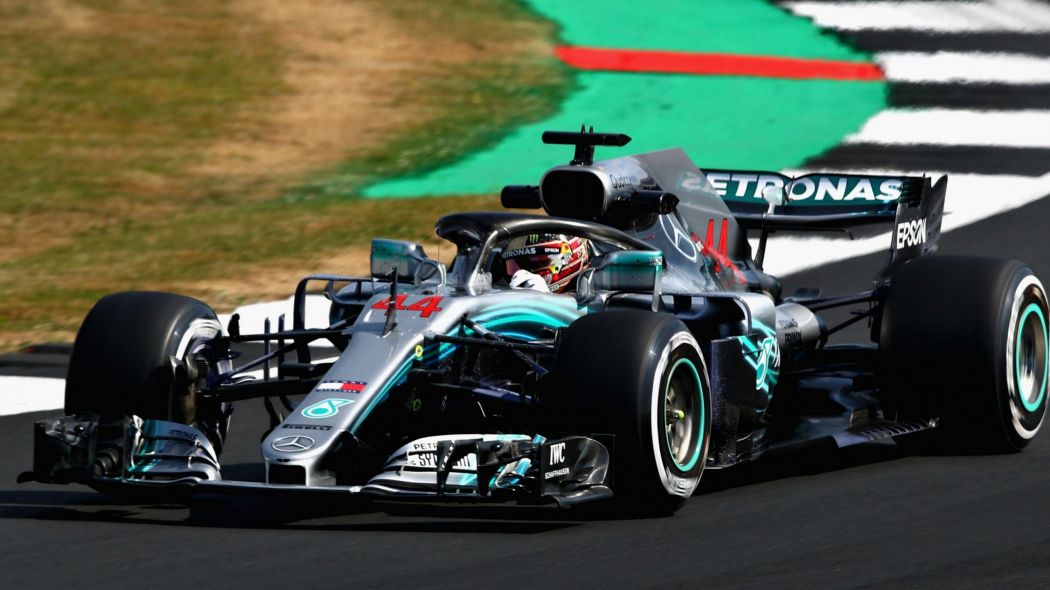 Every driver has at least one territory where he seems unbeatable. Senna could be invincible on any given day at any track. In quite a similar vein, if not in the magnitude of dominance, if there's a track where Hamilton's flair seems to possess a Senna-like invincibility then it's here at the Silverstone, home to the epic British Grand Prix.
Having begun from second, Hamilton, a five-time winner of his home Grand Prix came to blows with Kimi Raikkonen of Ferrari for no fault of his own at the opening stages of the race.
In what could only be described as one of the harshest sights for any Hamilton fan, the Mercedes driver spun out of control and fell toward the back of the grid with Raikkonen earning the wrath for an accident touted as 'deliberate.'
But was Hamilton going to give up? Certainly not and therefore, in mounting a tremendous comeback to the front of the grid, clinging on to a position that now may be remembered as a famous Second at Silverstone in 2018 for times to come, Hamilton displayed fire and fought back.
Keeping cool under wet weather at Hockenheimring

If there was one of the best moments of Lewis Hamilton in 2018, then this was it!
Formula 1 reserves a special love for those who endure. In the sepia-tinted days of Motorsport, both Senna and Schumacher brought something special under the rains. It's been 25 years since Senna's dominance at the famous Donnington Park contest, a race wherein proved why the term 'Regenmeister' so avidly described a man who could make multiple moves inside the opening lap itself.
Similarly, one may never forget Interlagos in 2016 and a certain Max Verstappen.
But spare a thought for Lewis as well, whose calm and control driving at Hockenheimring, that ultimately resulted in an unlikely win was also made possible by the British driver keeping his wits about himself and the four wheels of his Silver Arrows inside the racing track, something that his arch-rival Sebastian Vettel failed to do.
Though, there may have only been an outside chance for Lewis to reign at the German Grand Prix for such phenomenally in control seemed Vettel all along the weekend, who was to know what would transpire as rains would strike the contest in the closing stages? As Vettel spun out and Raikkonen followed, Hamilton dived into first and obviously, wasn't going to relent.
Singapore- a stroll to a win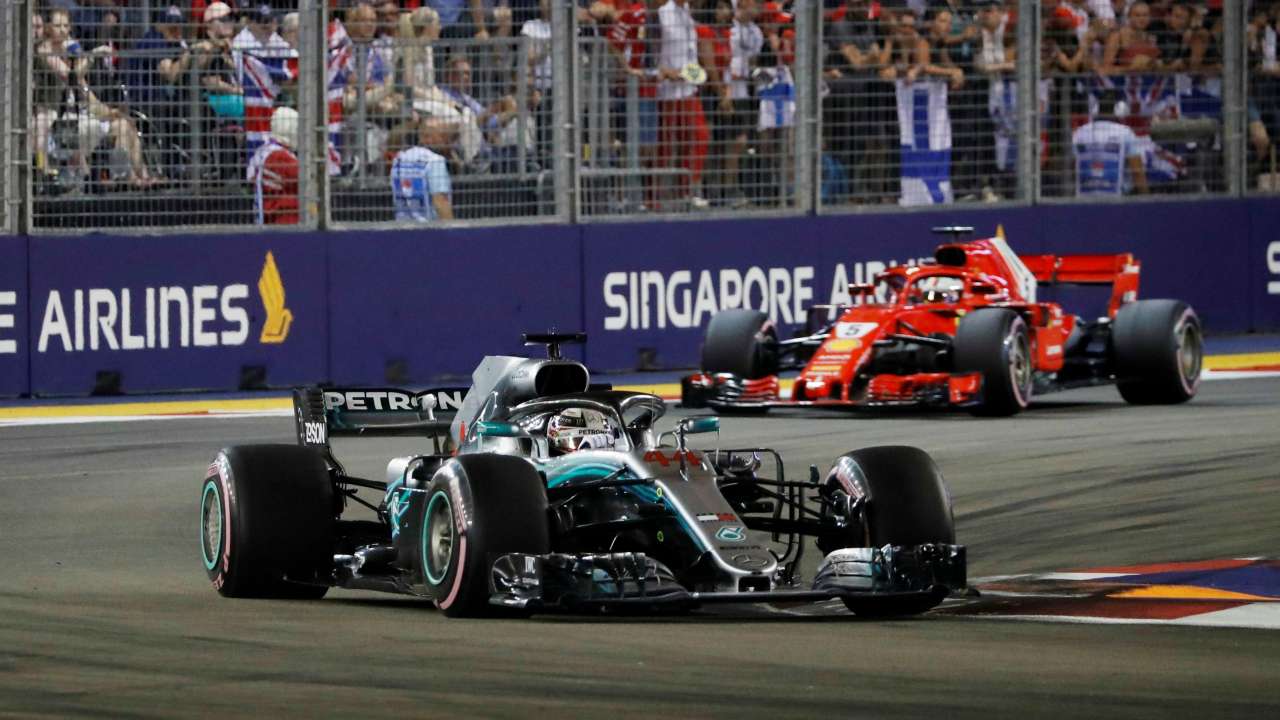 The feeling is special everytime you win. But when you win a Grand Prix ahead of a man described as the 'Mad Max' by a comprehensive margin of nearly over 9 seconds, it ought to be treated as a big triumph.
In doing exactly the same, Lewis Hamilton, who had been wary of the straight line speed of the Ferraris at a track that's traditionally suited the architecture of cars like the SF 70 H reigned supreme. But that wasn't before making a real show of his prowess at a track where he not only seemed unbeatable but emerged clear of both Ferraris and Red Bulls by a margin of greatness one would attribute to only a giant of racing.
How on earth did Vettel's superior car- if one purely speaks of race pace, never mind the testing heat and track conditions- not dominate the show is something that only Ferrari can answer, if at all, but Lewis won't mind one bit.
The move on Sebastian Vettel at Sochi
Surely, Hamilton's heart may have sunk seeing Vettel pass him as he exited the pits in what clearly seemed a no-show of Mercedes' race-strategy department. But right toward the end of Lap 14, as Hamilton saw Vettel leapfrog ahead, he could do nothing about stopping the Ferrari from taking third.
But that was then.
What followed later was a stellar move as Hamilton all but passed his rival toward the end of Lap 15 before finally diving into the outside of Seb just before approaching a right-hander to put his car ahead of the red one.
This move was surely one of the best moments of Lewis Hamilton in 2018.
Hamilton trumps Kimi at Monza

When the Iceman went the fastest at 1:19:119, it seemed Monza was carpeted only by Red flags in the audience.
But the Merc driver had other plans.
He would deliver something that may surely top the list of the 5 best moments of Lewis Hamilton in 2018- isn't it?
Who knew that Hamilton would turn the comfort zone for fans, basking in the glory of thinking about a Red-Letter day into a day that surprised Kimi of all, as if it were a red-flag to overtake the Brit?
Right in the closing stages, Hamilton, who'd lost the lead to Kimi who brilliantly moved back to reclaim the track position right at the start, clawed back around the chicane to claim first, a position he wouldn't bow out of.