To go purely by the numbers, then the recent Spanish Grand Prix of 2020 was Lewis Hamilton's 88th career win, his fifth at the venue, and his fourth in six events this season. No other driver, barring Hamilton, has notched up four consecutive wins at this venue, winning each time since 2017 onward. It's once again, been a remarkable year for the British driver, in that being the best man on the grid, Hamilton's left little to the imagination of those who are simply playing catch-up. 
But to speak of impact or essence, then the just-concluded Spanish Grand Prix was also an eventful battle for those caught up in exciting scraps further down the midfield in a year where there's no denying the prominence of the McLarens and the Racing Points.
So as Hamilton notched up another measured triumph and Bottas picked up his 50th career podium, what were the other talking points from the Spanish Grand Prix?
Race-winner Lewis Hamilton overtakes Schumacher for most F1 podiums
It's only a surprise as to how Lewis Hamilton didn't succeed with claiming the grand slam at Barcelona- including the win, pole position, and the fastest lap, the latter of which belonged to Valtteri Bottas in his blazing Mercedes.
Because other than that, there was little that Hamilton didn't do, as he led every single lap, and not once did he concede the track position out at the front in winning another commanding Grand Prix by pure dedication.
Talk as much as you want about the visible superiority of that Mercedes, but to notch up a win, time and again, weekend after weekend, also takes some great effort on the part of the driver. Hamilton's defiant win, which also enabled him to break Michael Schumacher's long-held record of most F1 podiums scored by a driver (155) was quite clearly among the biggest talking points from the Spanish Grand Prix.
Brave comeback drive by Perez
For much of the last fortnight, the talking point in Formula 1 was the rather surprising but much-loved comeback of Nico Hulkenberg, who had signed up as a last-minute replacement for Checo, with the Mexican having tested positive for COVID-19.
But in Spain, Perez, who had sat out of two back-to-back races, was back to business as usual by notching up yet another memorable drive, courtesy his fighting fifth for Racing Point.
In the process of achieving 10 hard-fought points for the Lawrence Stroll-owned outfit, the famous Mexican driver proved just why he's so highly rated. Lest it is forgotten, that it might not have been all that easy to have not been in an F1 car for nearly half a month and then, amid much anticipation, registering a stellar drive immediately upon comeback.
So Perez's fighting spirit was clearly one of the key talking points from the Spanish Grand Prix.
Vettel makes it count despite strange Ferrari treatment
Life's not been all that great for the troubled Sebastian Vettel. His and Ferarri's been an equation that's now headed for a messy divorce, as they call it. Never before has a multiple world champion been amid such testing waters as to where the great German icon finds himself in. Never a good sight to be left cold and nearly unattended- as one noted in Barcelona- right?
But despite being a victim of another dubious Ferrari strategy, the Scuderia strategists leaving Vettel out on a significantly longer one-stop (despite being in the full knowledge that the German was on worn-out tires), Vettel drove away to a fine finish, gathering P7 in the end.
As a result, Ferrari, despite not pitting Vettel for fresher rubbers, were lucky that the driver they didn't really favor emerged with the only points the stable scored on a troubled Barca evening.
Moreover, for his excellent defending against Alex Albon (in a much stronger Red Bull), and for holding ground in those intense closing stages, Vettel's effort was clearly among the important talking points from the Spanish Grand Prix. This also fetched him the 'driver of the day' award.
Something to savor, finally?
Raikkonen, P14, still holds onto his own
The Spanish Grand Prix of 2020 was the first time this year where Alfa Romeo's Kimi Raikkonen made it to Q2. In fact, no Alfa car, Giovinazzi driving the other, was able to make it to the second qualifying battle on the much-important Saturdays in any of the contests held prior to Spain, which is when Kimi's fighting fourteenth for the quali-day turned things around somewhat.
Nevertheless, come race-day and Kimi struggled for pace and was seen battling for key positions further down at the midfield.
Having said that, despite finishing on fourteenth- the very slot he began his Spanish run from- Raikkonen didn't just avoid slipping further down, which would've been embarrassing, but found against his name a really amazing achievement the moment he reached Lap 37 of 66.
What's rather fascinating is that when Kimi approached Lap 37, he became the driver to have covered the most distance ever managed by an F1 driver in a car.
Not that the enigmatic Finn would care much, but it helps to know the 'Iceman' has now raced no fewer than 83,295 kilometers in Formula 1, the most for any driver so far. Calls for a beer, huh Kimi?
Max, second-best at Spain, scores third-consecutive podium at Barca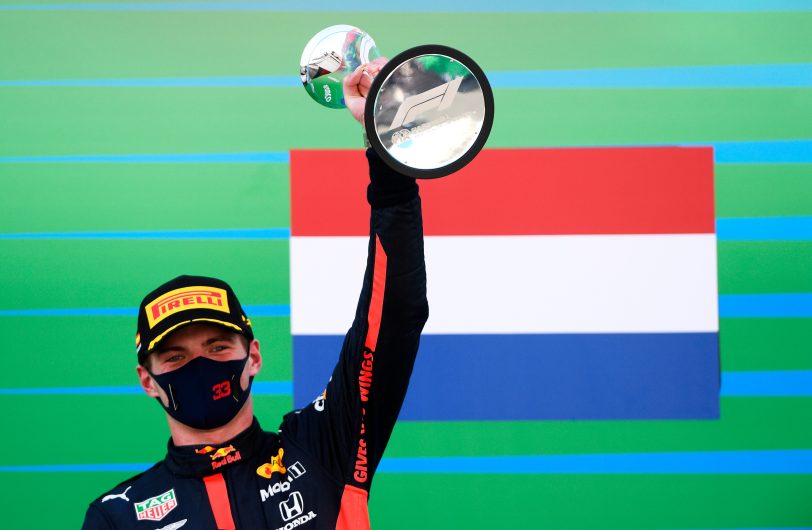 Max Verstappen's original aim was to deny Mercedes the race win. This was, after all, a track where he'd first tasted victory, back as a teenager, in 2016. Who can forget that massively-exciting run to the checkered flag, with the Dutchman being hunted by the faster Ferrari of Raikkonen?
But cut to 2020, the numbers and recent track history cut a different picture. No driver, under dry conditions starting from third on the grid, had gone on to win the battle. Not hypothesis, but pure fact.
In the end, it didn't change as Verstappen could go only as far as beating just one (of the two) Mercedes, an effort that came to light very early in the race with the Red Bull driver lapping a rather sedate Bottas even before the contingent approached the run down to turn 1.
Yet, what many might not have noted was that Barcelona's P3 for the Red Bull driver was his third-consecutive podium finish at the very venue. The recent results point to a fighting third in 2018, and yet another third in 2019.
Therefore, in the light of his brilliant form and overall result, it's not hard to know why Max Verstappen's drive was one of the major talking points of the Spanish Grand Prix.