Recently, there was a poll conducted by Wisden on who is India's greatest Test batsman. There were names like Virat Kohli, Sachin Tendulkar, Rahul Dravid, Sunil Gavaskar, Cheteshwar Pujara and Gundappa Viswanath who were on the list.
The contest boiled down to the final between Dravid and Tendulkar. It was expected that the poll would result in Tendulkar being nominated as the greatest Test batsman. It was going to be on expected lines. However, in a surprise, Wisden nominated Dravid as the greatest Test batsman India has ever produced.
This may have come as a surprise. However, on deeper introspection, it is not. Yes, it is agreed that the sheer magnitude of Tendulkar's numbers blind us. The leading run-getter in Tests, the most centuries in Tests, centuries against every nation makes Tendulkar the complete player.
It is also accepted that Tendulkar did well against Australia when they were at their peak. He had a fabulous record in South Africa, something which Dravid does not.
Rahul Dravid > Tendulkar in wins away
Why does Dravid deserve to be India's greatest Test batsman despite not having the numbers of Tendulkar? The answer could be in India's golden period from 2002 to 2006 when they started winning overseas consistently. The fact that they managed to win in Australia, England and Pakistan owe a lot to Dravid and the way he dragged India out of the hole in all of those tours.
The first instance is the 2002 tour to England. Having lost the Lord's Test, India were staring down the barrel in Trent Bridge. In stepped Dravid and his dogged 115 ensured the game was drawn. His finest moment though came in Leeds. Green pitch, overcast skies and a Dukes ball. In the past, Indian teams would be blown away in these conditions.
Dravid, though, battled the conditions and took blows on his body. He weathered the storm brilliantly and his 148 set up the base for Tendulkar and Sourav Ganguly's onslaught which helped India cross 600.
India won that Test and levelled the series. In the final match at the Oval, Dravid blasted a double century and almost put India on the cusp of a win but rain and England's doggedness stalled India's plans. The fact that India walked out of that series tied 1-1 owed much to Dravid's 602 runs at an average of 100 with three consecutive tons.
Dravid's contribution more than Tendulkar
India had not won a Test in Australia for 22 years heading into the series in 2003/04. After a rain-affected draw in Brisbane, Ricky Ponting's double ton helped Australia reach 556. India were almost down and out at 85/4 but Dravid, eager to put behind his 1999 tour nightmares behind, stepped up.
He shared a 303-run stand with VVS Laxman and smashed his first century in Australia. He made it big, converting it into a double as his 233 gave Australia only a 33-run lead. Ajit Agarkar's 6/41 bowled Australia out for 196.
In the second innings, on a wearing pitch, it was Dravid's 72* that helped India break their Australia jinx. Even in that series, he hit 619 runs at an average of 123. In both those series, Tendulkar's average was 66 and 76 respectively.
In Pakistan, with the series level 1-1 heading into the final Test in Rawalpindi, it was Dravid's bloody-mindedness which broke Pakistan's spirit. His 270 helped India beat Pakistan and win a series for the first time. In that series, Dravid's average was 77 and Tendulkar's average was 68.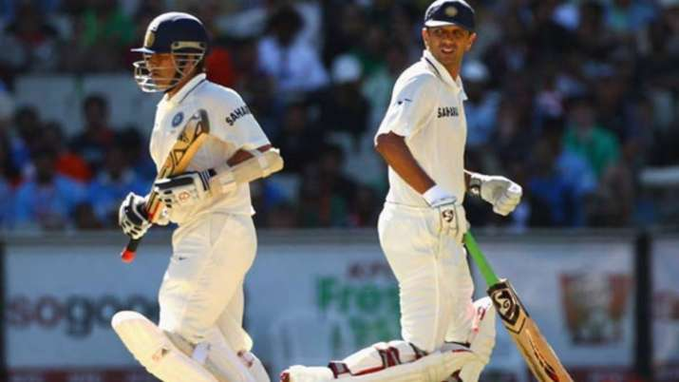 Dravid's greatest feat probably was his knock of 81 and 68 on a minefield of a track in Jamaica against the West Indies in 2006. On a pitch where only one Indian batsman other than Dravid scored 45, his contributions helped India win a Test series in the Caribbean after 35 years. Tendulkar had missed the tour due to injury.
Blasphemous result?
Many Tendulkar fans will be quick to dismiss the poll. They will say that it is blasphemous that Dravid is the greatest despite the sheer magnitude of Tendulkar's achievements. They might troll the site on social media and demand a recount.
However, if one looks at the period mentioned, it is clear and the stats prove it. When one looks at India's rise overseas, the major factor is Dravid. A food for thought. In that whole period from 2002 to 2006, Rahul Dravid's overseas average was 71 while Tendulkar's was 55.
Rahul Dravid was even greater than Ricky Ponting, Kumar Sangakkara, Jacques Kallis and Brian Lara in that period. Yes, Rahul Dravid IS the greatest.