Cheteshwar Pujara summed up a perfect Test spell in Australia to show his mettle as an elite in the red-ball format. 521 runs and three centuries is what the 30-year-old notched against the hosts. Pujara's application and love for batting helped the Indian cricket team to seal its maiden Test series victory on Aussie soil. Pujara's meteoric rise is a grand spectacle for India in Tests.
The classical Test batsman ended the series with a sublime 193 in the fourth Test match in Sydney. The SCG Test was only nine balls old when Pujara was in the middle. Time and time again, the player found himself being unprotected by his openers.
In the first Test match in Adelaide, he was in at the crease after 12 deliveries. He went on to amass 123. In Perth, the player suffered a rare failure after once again coming in early after just 18 and four deliveries respectively. In Melbourne, Pujara came in a bit later with the scores reading 40 and 28.
Here we analyse how Pujara helped his reputation gain more substance in Test cricket.
Pujara's application of yesteryear batting deserves praise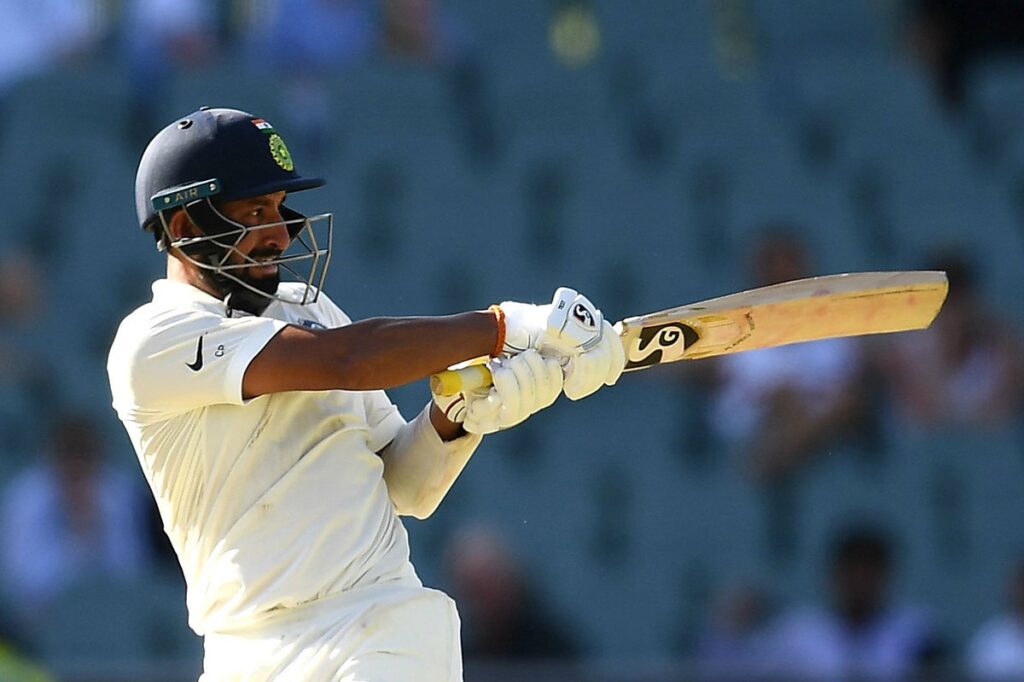 What he did so well was that he kept on batting. He showed that the application of yesteryear approach by the most sounded Test batsmen still has value in the modern day cricket. Pujara's habit of coming in and settling himself, just when every other batsmen failed to hit the consistency gear highlighted how much he was at peace with himself and the conditions.
Things often weren't easy. There were a few blows here and there. But Pujara stood tall and stayed true to his task. It wasn't just about blocking or digging himself in. It was rather holding guard and playing to his strengths. Pujara finally came alive in overseas shores and was a different player altogether to what we saw in South Africa.
In an era where T20 cricket has changed the mindset of most batsmen and impacted their approach in Test cricket, Pujara's technique truly stands out. Pujara ended with facing the most number of deliveries (1,245) by a visiting batsman in Test cricket in a Test series in Australia (four or fewer Tests).
Legend Rahul Dravid (1,203 balls) had the previous best record achieved in 2003/04. Pujara, who came in as the man to fill in Dravid's shoes, gave glimpses of the characteristics he bears that is so familiar with his predecessor.  Pujara also joined the former Indian Test champion and current skipper Virat Kohli to slam more than 500-plus runs in a Test series in Australia.
Pujara's technique stood out

One of the highlight of the series was the battle between Pujara and off-spinner Nathan Lyon. One felt that the player had light feet and legs and just fitted into a tempo. He used his feet against spin, which in turn often baffled and frustrated Lyon.
Lyon was unable to toss the ball up, and he rather tried to push Pujara back. Against the pacers, he often gave himself ample time to dish out strokes through the off-side. The ball often creamed past the gully region. The Australians tried to alter their bowling plans.
When they pitched the ball up, Pujara clipped them wide of mid-on. They tried to get in those bumpers, which he took on the helmet and on the shoulder as well. His courage needs to be lauded here.
The right-handed batsman outscored and outperformed his captain. He showed that India can look beyond Kohli for the runs in overseas conditions.
Pujara's craft looked masterful
Pujara's art of batting and grinding it out in the middle gained substance. One can remember the innings he played at the MCG in the third Test. The pitch was slow and didn't assist batting that well. Pujara played on and on and India took nearly two whole days to get to 443/7.
It turned out to be a masterstroke from Pujara. One can see how much he wanted to make it count and was unfazed by the time. He had too much of it. The number three-ranked batsman in the world, ended up spending a massive 1,868 minutes in the four-match Test series across seven innings.
It is the third most by an Indian batsman in a Test series. Legend Sunil Gavaskar is the only one who has batted more minutes than Pujara. And that was decades ago.
Pujara's time has finally arrived

There was never any doubt in Pujara's ability to handle pressure well and be a leader in the batting. The only issue was that he thrived more in the subcontinent. His struggles in SENA countries were often exposed. The consistency was missing.
Going back to time, Pujara was dropped for the Sydney Test match four years ago, when India lost the series 0-2. He has also been dropped in South Africa as well and, six months ago, was chopped from the line-up in England. Pujara never allowed these treatments to get the better of him. Instead he transpired himself and ended up being the vital cog of the side.
One can claim that Pujara's big moment in his Test career finally arrived. Out of his overall five Test tons in SENA nations, three came in this series. One came against England last year. Pujara is enjoying his batting away from home and this reflects the learnings he derived.
We would want to see revival of a dying art (Test cricket batting). Pujara has brought that to life. Perhaps he is the last of this kind in today's generation, who is a master of one trade.