Across the globe, people watched in horror as television screens flashed disturbing images of a 46-year-old black man being brutally assaulted by a cop. Accused of using a 'fake bill' at a store in Minneapolis, Minnesota, George Floyd was pinned to the ground as Derek Chauvin, the cop, thrust his knee on his neck. Floyd did not survive the assault.
Thousands erupted in anger on the streets of America, chanting 'Black Lives Matter'. The ripples of the protest that threatened to engulf America, soon reached elsewhere across the globe. Scores marched in solidarity with the protesters.
The sporting world wasn't to be left untouched, as many athletes of colour spoke out against hate crimes and racial injustice.
Former American basketball star Stephen Jackson, who grew up with Floyd, remembered him as "my twin". Sixteen-year-old tennis sensation Coco Gauff was even seen addressing the protesters in the US. NBA legend LeBron James, too, tweeted about it.
Basketball great Michael Jordan wrote, "I'm deeply saddened, truly pained and plain angry." Golfing superstar Tiger Woods wrote, "My heart goes out to George Floyd, his loved ones and all of us who are hurting right now."
England and West Indies take a knee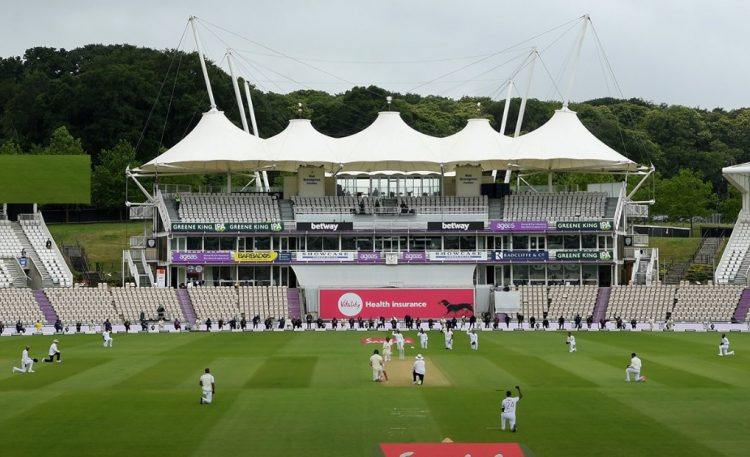 Even the gentleman's game found voice to vent its outrage over Floyd's killing. In a poignant and thoughtful moment during the Test series between England and West Indies, which marked the return of international cricket after a 3-month corona-induced hiatus, the players of both teams took a knee in support of the 'Black Lives Matter' movement.
Asked to reflect on the movement and the scourge of racial crime, former West Indies quick-turned-commentator Michael Holding said hate crimes won't go away till such time the entire human race is educated about the issue. He even delved into history to cite instances of how people of colour were demonised and discriminated against.
However, while the cricket world seemed to be at one with the 'Black Lives Matter' movement, controversy erupted after South African quick Lungi Ngidi came under fire from former cricketers Boeta Dippenaar and Pat Symcox for asking his countrymen to come forward and evince their support to the cause.
Ngidi said, "It (standing with the Black Lives Matter' movement) is definitely something I believe we would be addressing as a team. And if we're not, it's obviously something I would bring up. It's something that we need to take seriously, like the rest of the world is doing. We need to make a stand."
South African players don't see eye to eye
However, his stance was met with scorn by Rudi Steyn, a former Protea batsman, who shared a news story carrying Ngidi's quotes and saying, "I believe the Proteas should make a stand against racism, but if they stand up for 'black lives matter' while ignoring the way white farmers are daily being 'slaughtered' like animals, they have lost my vote."
Reacting to the post, Dippenaar wrote, "I am afraid to say 'Black Lives Matter' has become nothing more than a leftist political movement. All lives matter. If you want me to stand shoulder to shoulder with you Lungi then stand shoulder to shoulder with me with regards to farm attacks."
Symcox was more caustic, saying, "What nonsense is this? He must take his own stand if he wishes. Stop trying to get Proteas involved in his belief."
Voicing support to the 'Black Lives Matter' movement, current Protea skipper Francois du Plessis said, "In the last couple of months, I've realised that we must choose our battles. We're surrounded by many injustices in our country that require urgent attention and action to fix them."
"I acknowledge that South Africa is still hugely divided by racism and it is my personal responsibility to do my best to emphasize, hear the stories, learn and then be a part of the solution with my thoughts, words and actions," he added.
Hence, while the cause is worth standing up for, the opinions in the cricketing world seem divided.