India vs Pakistan! It is the contest that is considered a blockbuster in cricket.
It is the contest where passions, emotions, patriotism and jingoism overflow at every level. A loss is considered blasphemous while a win is celebrated grandly for days, months and years.
The amount of passion and patriotism in an India vs Pakistan contest is not surprising, considering the turbulent history that we have shared.
In cricketing parlance, there are actually two very distinct rivalries.
One is the Ashes contest between England and Australia, full of history. The other is India vs Pakistan, a contest that draws the maximum eyeballs to television and websites.
Currently, India vs Pakistan bilateral series contests have been on hold ever since the Mumbai terror attacks in 2008. Barring 2012, these teams have clashed in multi-lateral tournaments like ICC events or Asia Cup every year.
Initially, contests between India and Pakistan were thrilling and fun to watch.
However, in the last decade, barring one or two isolated matches, India vs Pakistan contests (drumroll for blasphemy) have been lacking the tense edge. The roles have also been reversed. The contests are not so exciting to watch.
India's batsmen vs Pakistan's bowlers contest?
Traditionally, the contests between India and Pakistan has been a case of India's batting might vs Pakistan's bowling strength.
India had stars like Sachin Tendulkar, Sourav Ganguly, Rahul Dravid, VVS Laxman, Virender Sehwag and Gautam Gambhir while Pakistan had the superb bowling arsenal in Mohammad Asif, Shoaib Akhtar, Mohammad Sami, Umar Gul, Abdul Razzaq, Shahid Afridi and Rana Naved-ul-Hasan.
This is taking into consideration India vs Pakistan contests since the start of the 21st century. Thus, names like Waqar Younis and Wasim Akram have been omitted as they played few matches against India in the start of the 21st century.
However, on closer look, it is revealed that this was NEVER the case. At the start of the first decade, there were many Pakistan batsmen who stepped up and thwarted India's bowling.
Batsmen like Shoaib Malik, Mohammad Yousuf, Younis Khan, Inzamam-ul-Haq and Salman Butt formed a powerful batting line-up. In that same period, it was Akhtar, Razzaq, Naved-ul-Hasan and Afridi who dominated the bowling charts as well.
Why did India struggle? It was because among the top five-wicket-takers in India vs Pakistan contests at the start of the decade, there is only one Indian bowler and that was Irfan Pathan.
The likes of Zaheer Khan, Ashish Nehra had an economy rate of more than 5.5 while only Ajit Agarkar and Anil Kumble had an economy rate of less than 5. In contrast, Akhtar had an economy rate of less than 4 while all the other Pakistan bowlers had a rate of just over 5.
It was this prime reason that Pakistan had a superior head-to-head record in the first decade.
Tables totally turned
In the second decade of the century, the tables have totally turned. It is now India who is clinically dominating Pakistan.
In 14 matches that they have played, Pakistan has won just four games with one significant victory coming in the 2017 final of the ICC Champions Trophy.
However, the rest of the decade has seen the emergence of India's bowling and batting which is top notch now.
In this decade alone, the likes of Rohit Sharma, Virat Kohli, Shikhar Dhawan and MS Dhoni are averaging over 50 in ODIs against Pakistan.
Only two Pakistan batsmen average close to and over 50 and they are Mohammad Hafeez and Nasir Jamshed. Just to note, this is for players from both sides who have played more than five ODIs.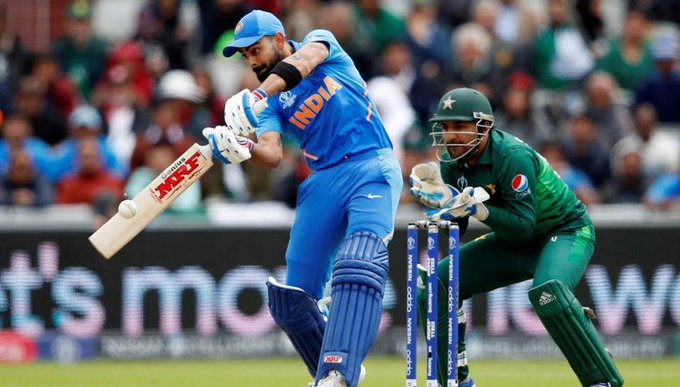 It is with the ball, considered Pakistan's forte for so long, that India have made big strides. Barring Saeed Ajmal and Junaid Khan, the top wicket-takers are dominated by Indian players.
Bhuvneshwar Kumar, Ravichandran Ashwin, Ravindra Jadeja, Umesh Yadav and Mohammed Shami all have superb economy rates. Kuldeep Yadav also impressed against Pakistan in 2018 and in the 2019 World Cup. Thus, Pakistan's absence of top batsmen and top bowlers, primarily through PCB's rotational policy of getting and chopping players has contributed to the lop-sidedness of the contest.
In effect, India's dominance is the turning of the wheel against Pakistan. In future contests, India will dominate Pakistan due to the sheer depth in their batting and bowling.
However, the last few contests have been dominant. Out of 14 contests, there have been only three close contests in Dambulla, Delhi and Dhaka.
With this current situation, broadcasters will have to develop something creative to generate hype in this contest. Majority of fans will easily lap up this contest. But, holistically, the India vs Pakistan contest lacks the edge nowadays.
Follow us on facebook for more sports news & updates