Probably the world's worst kept secret right now is Barcelona's pursuit of Inter Milan striker Lautaro Martinez. Previously an understudy to Mauro Icardi at the San Siro, the Argentine has been a revelation this season, thriving in his compatriot's absence.
Another factor in the meteoric rise of Martinez has been the appointment of Antonio Conte. The Italian's decision to pair the 22-year-old with a more physical striker like Romelu Lukaku has worked wonders for Martinez's development.
While opposition defenders struggle to keep up with the sheer physicality of Lukaku, it allows his strike partner to do the damage by running in behind defence lines and scoring goals for fun.
In the 2019-20 season, Lautaro Martinez has played 31 matches across all competitions so far, amassing 16 goals and four assists for Inter Milan. Such a terrific form has seen him being linked to Barcelona, who are actively looking for a striker to replace Luis Suarez.
More often than not, when the Blaugrana want a player, they are successful in signing him. In such a scenario, how would the Argentine marksman fit in at the Camp Nou?
Here are three ways in which Barcelona could line up with Lautaro Martinez:
#3 Alongside Suarez in a 4-1-2-1-2 formation
In the current scheme of things, Luis Suarez's future with the La Liga outfit remains up in the air. If Barcelona are indeed successful in their chase for Lautaro Martinez, then it would obviously push Suarez down the pecking order.
Such a scenario could see him push for a move away, possibly either back to South America, or to the MLS. But if the Uruguayan decides to stick around, then Barcelona may be able to pair the two strikers upfront, in a 4-1-2-1-2 formation.
It's an unlikely scenario, given it would require Quique Setien to play Lionel Messi as a number 10, but in hindsight, giving the diminutive Argentine a free-roaming role could do wonders.
His creative ability combined with the lethal partnership of Suarez and Martinez would be a mouth-watering prospecting for everyone associated with Barcelona
#2 Alongside Suarez in a 4-4-2 formation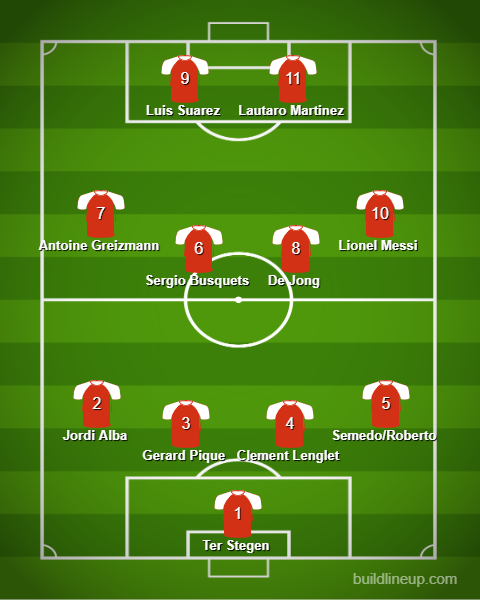 Against teams who like to drop deep and sit back, Barcelona may opt to unleash the wrath of their attacking quartet of Lionel Messi, Luis Suarez, Lautaro Martinez and Antoine Griezmann.
While attacking, this formation may look like a 4-2-4, with Frenkie de Jong and Sergio Busquets forming the double pivot.
In defensive transitions, both Messi and Griezmann could drop deep to provide cover to the full-backs, with the two strikers pressing to win the ball further up the pitch.
In the past few years, age has indeed caught up with Suarez but he remains a lethal finisher, and alongside a secondary striker, the Uruguayan's job may become a lot easier. This way, he would just be asked to conserve his energy and focus on scoring goals.
#1 As a direct replacement for Suarez in a 4-3-3 formation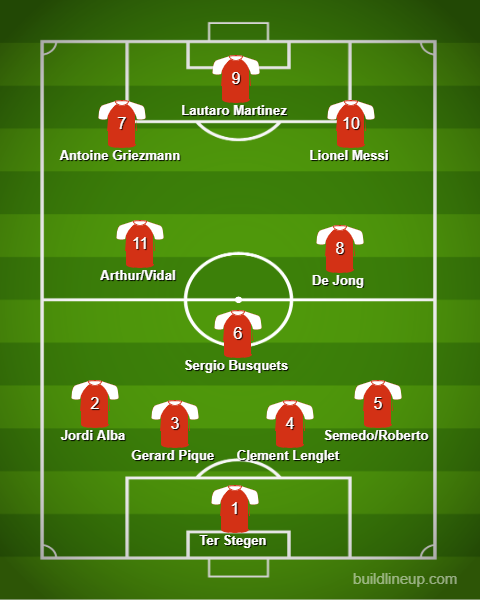 This is where things get interesting. Since the days of Pep Guardiola, Barcelona have played in a 4-3-3 formation. Ernesto Valverde did try to experiment with a 4-4-2 system, but that's because the Catalan giants did not have a proper replacement for Neymar.
With Lautaro Martinez coming into the team, Quique Setien may opt to form a trident of Antoine Griezmann, Lionel Messi and the 22-year-old Argentine.
This way, Barcelona won't have to make changes to other positions, and historically speaking, the Spanish champions have won most of their trophies with a trident of attacking players up front.
While Griezmann has struggled so far when playing on the left, a 4-3-3 system would help all three players to switch and interchange their positions, which would further make man-marking them super tough. 
Follow us on facebook for more sports news & updates