In August of 2019, there was a clarification offered to a rumour that was basely circulating all over the Internet. At the end of an endless tirade of half-truths and theories floated around, perhaps deliberately so, truth finally emerged on the subject of Chris Gayle's retirement.
The lanky lad from Jamaica associated with beating the pulp out of the cricket ball, remarked, "I'm not retiring anytime soon and am available under further notice."
In cricketing parlance, it signalled no end to the nightmare that bowlers face. A nightmare called Christopher Henry Gayle. But in the firmament of West Indian cricket, the explanation offered a sigh of relief to a team that, to this day, feels Gayle's mere presence in the dressing room is nothing shy of a 'blessing' to the unit, the collective that is the West Indies.
And perhaps it is here where rests the dilemma surrounding a true genius of the shortest format and an unquestionable great of the West Indies.
Is the Chris Gayle we know today a cricketer who's reduced to being like a sleeping chief executive of a company, and not an active top executive?
If not, then who's responsible for the nosedive in fortunes of a cricketer much loved by fans and much feared by bowlers, one whose self-styled aura 'six-hitting' machine is about as accurate a depiction as is Ferrari to speed?
Chances are, a simple look a statistics, for cricket ultimately, beyond narratives and sobriquet rests in numbers, offers explanation.
But first up, a slice of truth, whether you like it nor not.
At 42, Christopher Henry Gayle isn't getting any younger. The days of the yore, the ballsy hits on Brett Lee over a harrowing English skies are over. So are the monumental peaks such as the two triple hundreds in Test cricket, a format where a certain Brian Lara holds the record for the highest individual all-time score.
At 42, Chris Gayle, who's confirmed to play the T20 World Cup, is most certainly playing his final show-stopping event unless the light-hearted, free-spirited Jamaican discovers an anti-ageing, reflex-fastening creme that enables him to expand his career.
He's already played a fine hand in helping his beloved West Indies lift two world cups in a format where he's the Mohd. Ali of six-hitting: T20 cricket.
What's absurd, for the lack of better expression, is that how well- and justly- does one remember Carlos Brathwaite's four consecutive sixes in 2016 and how easily does one forget the man whose exploits against Australia in 2012 semi-finals helped the West Indies reach the finals in Sri Lanka.
Wait, what?
The date was October 5, 2012, one that's fast approaching in what'll be nearly a decade since Gaylestorm stormed to headlines in a must-win semi-final counter in Sri Lanka against a Starc, Watson, Cummins-powered attack.
Remember the game?
Most likely, you don't.
Pollard was carving Xavier Doherty at the other end whilst Christopher Henry Gayle, then 33 and at the peak of his powers, pounded the Aussies on his way to a 75 off 41 deliveries.
With 6 sixes and a strike rate of 182, Gayle possibly presided over one of the finest yet most under-appreciated knocks, one that with the passage of time and perhaps endless T20 hyperbole has largely been forgotten.
Not that Gayle calmed down in the next edition of the epic tournament or let the Aussies rest in 2014.
He was back at it again. Back to big hitting, this time stitching stands, taking singles, converting ones into twos, something that's not the choicest mode of operation of the left-hander. Something that's rare. Un-Gayle like even.
Chasing 179 to win, West Indies were anchored by their most reliable man up the order as Gayle carved- not blasted- a 53 off 35, an important Super 10 game going the way of the men from the Caribbean.
The irrepressible Jamaican had stepped up, once again.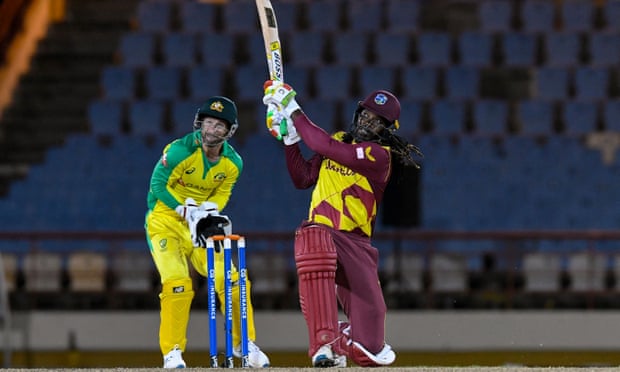 Essentially speaking, what the West Indies need now especially in the tournament where it matters most, is the Chris Gayle of the past.
The only issue is, where's that man gone, no one knows.
He's still around. Around in mind and spirit but in form- one can't say with utter certainty?
And that's precisely what's hurting the mega T20-powerhouse of world cricket. Not that West Indies have ticked all the right boxes.
Who's their match-winning spinner, the one you can put in the box adjacent to Shamsi, Yasir Shah and Ashwin?
Has Oshane Thomas worked out his flaws and if not, then does it mean that the marvellously talented albeit inexperienced Obed McCoy and Dwayne Bravo are sufficient in getting the job done with their medium pace?
But let's not digress, shall we?
We aren't in a courtroom drama where smooth talking or reversing facts can win the case.
Here's hard evidence. And first up, the argument.
There already is an elephant in the room, one that can no longer be ignored.
An in-form Gayle, you needn't be a cricketing pundit to understand, is far more dangerous (and a safe bet for his team) than a Gayle who 'may' or 'may not' fire.
But hang on, that's only the tip of the iceberg.
You realise the Chris Gayle conundrum when you fathom that despite playing sixteen (16) T20Is this year, which is more than the combined tally of what he played from 2015 onwards until 2019, the left-hander hasn't even clocked 250 runs.
Moreover, that he's struck-not smoked- multiple fifties, and has, as a matter of fact, crossed the 50-run-mark only once in all these games makes the Gayle conundrum replete with worries.
Not that the cool as cucumber and unflustered batsman would want to dig too much into numbers.
The self-confidence and the ability to go big have hardly subsided. The Gayle of the old was evident from ball one in the contest versus New Zealand in the 2019 ODI world cup, scoring an underrated fifty.
But what West Indies need is the dangerman, who could appear at the back of hitting a powerful knock or two in this world cup.
There's a worry, as they are saying. The wrist spinners have found him out.
He's yet to work them out.
But will he or won't he in the series where it all matters?
Unfortunately, only Gayle himself can offer an answer, no amount of analysis ever can or will.
Chris Gayle in the last 3 years of playing T20 Internationals
| | | | | | |
| --- | --- | --- | --- | --- | --- |
| Year | Runs | Strike rate | Highest score | 50s | Avg |
| 2018 | 18 from 3 matches | 60 | 18 | 0 | 9 |
| 2019 | 20 from 2 matches | 125 | 15 | 0 | 10 |
| 2021 | 227 from 16 matches | 117 | 67 | 1 | 17 |