Most people fall in love in F1, a sport they are addicted to with mad passion. It's rare to hear and slightly unheard of to know that someone fell out of love with the sport. But unless you are Karun Chandhok, formerly at the pinnacle of the motorsport over a decade back in time, it makes sense to note how a sad turn of events might have happened to leave a driver who dreamt of doing big in dismay.
Long before he became a permanent fixture of the F1 paddock in the contemporary firmament of the sport and a bright analyst with interesting takes using that quintessential soothing voice, Karun Chandhok was a cerebral figure under the racing helmet and behind the steering wheels in the fastest form of motor-racing that there is.
Karun Chandhok's journey into F1
For a driver who competed in nearly every single important racing league prior to entering Formula 1, whether one speaks of Formula Asia, British Formula 3 Championship, Formula V6 Asia (Renault), and GP 2 Asia Series, Karun Chandhok was pipped to go the long distance in F1.
Though, to his utter dismay, the Chennai-born talent was able to make it for merely 2 years in the highest annals of Grand Prix racing, of which a year was spent mostly as a Test driver for Lotus, circa 2011.
His is a tale of struggle and endurance, passion that didn't peak with performance in an F1 car and success that came- out of the car- not inside it.
It was 2010 and Karun Chandhok made it to the Hispania Racing team and would race alongside the great Ayrton Senna's nephew, Bruno Senna at the former Spanish Formula 1 team founded by Adrian Campos.
Two young drivers back then, very young in a sport that admires and always makes way for youth to flourish, was success going to come Chandhok's way?
On the contrary, thanks to a recalcitrant car that was effectively a backmarker, in certain races being well over 5 seconds off the pole-sitter's time but within a fighting distance of teams like Virgin.
Yet, Karun Chandhok, minus frustration, continued. It was his maiden year and there was little sense in having a meltdown; he'd focus his energies to try and gather fighting race finishes.
Though he was driving an unreliable car, Chandhok managed to outperform Senna and ended 22nd on the grid, just behind Jarno Trulli and Heikki Kovalainen, both of whom were having a nightmarish season.
In a year that was about Sebastian Vettel's (Red) Bull-run, there was very little that the backmarkers could do in order to create talking points in Formula 1.
But what stood out for the now 37-year-old were his efforts at venues like Monaco and Australia, the Indian finishing fourteenth on the grid in both races, indicating the stomach for a battle.
What if Karun Chandhok had gotten the car with which to flourish?
There are things that are beyond one's control, such as destiny and when that happens, the only thing one can fall back on are self-confidence. Having no dearth of the latter, the first season, though one doused in mixed feelings paved way to the year with Lotus, in 2011.
This was a time where the likes of Kimi Raikkonen, who'd later flourish with the same team upon his comeback, going as ahead as taking third on the Driver Standings (2012) season hadn't yet returned.
So the question is what really happened with Chandhok in 2011, the year where Red Bull and Ferrari battles dominated the sport at the front of the grid?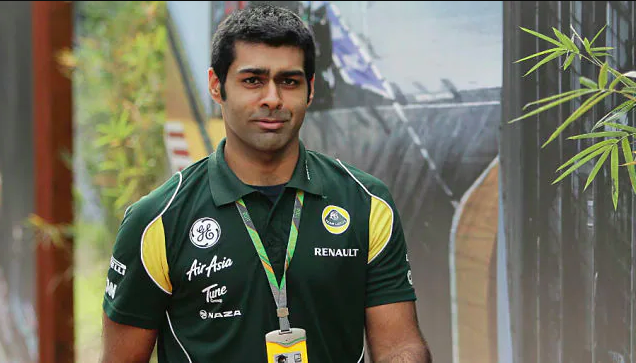 Echoing pain that's very much still there as the former F1 driver goes on to reminisce his final season in F1, here's what Chandhok shared, "It was very frustrating, very strange! I should've never done it," referring to the Test-driver role.
A team that he agreed to sign up with as the TD, he'd later find out, lacked both interest and enthusiasm in the sport and a largely-absent-from-races billionaire owner.
In an exclusive conversation with Motorsport.com, he'd say, "The first contact with Tony was bizarre," he says, sharing the story with Motor Sport. "If you remember in Monaco, Trulli, Team Lotus driver] ended up on top of my head [in a collision] when I was driving for HRT.
"On the Monday, my phone rang – and it was Tony. He said 'Hope you're okay. Really sorry, it was my fault. I was shouting at Jarno on the radio, I was saying he needed to pass you, was geeing him on and he had a desperate lunge.'
"In that conversation, he said, 'What are your plans for next year? Clearly your car was a bit of a s***box but I was impressed with what you did.'
"They had the Indian Grand Prix coming up in 2011. He thought we would work some sort of a deal out which would tick various PR boxes for it. Clearly if he thought I couldn't drive a greasy stick up a dog's arse, we wouldn't be having a conversation. At that stage of the year I was generally ahead of [HRT team-mate] Bruno [Senna] and having quite a good run."
The above being told, the key problem was that so prevalent was the absence of key communication that while Karun Chandhok, who'd signed the agreement that would allow him to drive at the Indian and Korean races, besides doing free-practice sessions for Fernandes' Lotus team, the owner had no knowledge about the arrangement.
To his horror, when Chandhok, now a well-known F1 pundit arrived at Spain's Valencia for the pre-season Test, wherein he walked straight into the paddock, he was looked at with confusion, his own team asking, "what are you doing here?"
That, pretty much was the moment, wherein Chandhok realized that even if it was a small team, the politics there was one that happened in big racing outfits and that was that.
Heartbroken and regretting the decision at having signed for Lotus back then, Karun Chandhok knew at once, what had long been his passion, wasn't going to end on a happy note.
What was saddest is the fact that when the talented racer when to the factory deciding to speak to the engineers, it appeared to him that no one was actually interested in interacting with him.
Well, they say Formula 1 is an exasperatingly dangerous sport but in some cases, such as this, it can be noted, it can also turn out to be a hugely underwhelming one.