In a planet where we are constantly being challenged by chaos owing to fuel guzzling vehicles and pressured by population-related issues any which way, how about embracing an issue Team India may likely face in the cricketing department?
The world is a tolerable place with electric vehicles in it even as it won't be such a delight after all for Team India going against one particular Kiwi opponent. 
However, let's imagine a scenario and then be hit by this very hit player from the BlackCaps contingent who's not related to the Hitman, but obviously.
Guesswork
Say you are called in to discuss cricket on a podcast or live show, whether by a group of friends hanging out on social media all day, or for a general discussion that lasts more than the duration of happy hours in a pub.
So what New Zealand player would come to the mind if the talk were of blunting spin and pace, and showing little reason to back out from a fight?
Too cliched? Nevermind.
Let's go again.
To a world where elegance in batting has little or no place, whatsoever, over big heaves and power-ridden knocks, there's a certain James "Jimmy" Neesham. Someone, the other day an interesting Twitter user by name of V Manjunath referred to as the Chris Hemsworth of batting.
Nice one, right?
Then, there's Daryl Mitchel who's about as prolific with the bat as is Matt Henry with the white ball; the former being in the form of his life having scored 1163 ODI runs from just 29 innings, 8 of which have led to 50+ scores.
Forget not, Mitchell has an average that with a few lanky hits will have touched 50 if he goes for the kill against India; at present, it stands precisely at 48.4 as we continue the search of the big Kiwi bird that's maybe as underappreciated as another New Zealander: Russell Crowe's A Good Year.
And yet, we aren't there.
Let's give in much like how the diet follower does upon looking at the fondue in Switzerland.
To a world where only Kane Williamson is considered a great Kiwi batsman, he is his deputy and sometimes, the captain, though only when Kane isn't able to lead.
To that bowling attack that immediately wags its tongue at the idea that a side minus Williamson will, quite simply, be blanked, he is the one who blanks this hugely ignorant lot.
In a world where left handers are congratulated for bringing grace, he brings a dash of resoluteness to go with it. In an era where big hitting became cricket's dominant currency, Colin Munro having been a great reminder of the same, the BlackCaps must certainly congratulate this other dude for so often saving them the blushes.
When duty calls for the man who saves NZ like the protector of Gotham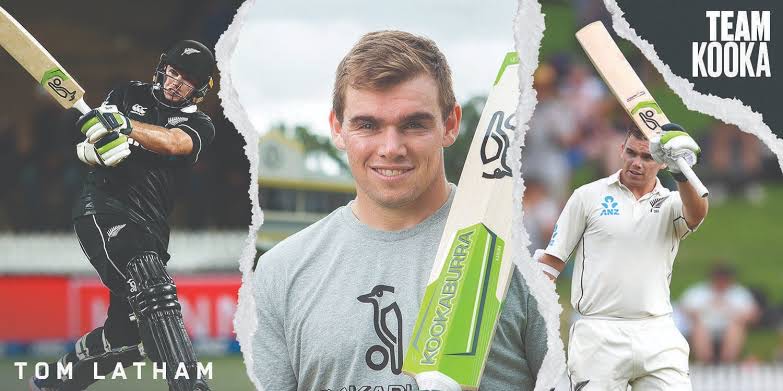 His surname rhymes with Gotham, which is no happenstance since he plays the defender of the pride that's New Zealand. 
Moreover, truth be told, he's a bloke as nice as the Tom the Hollywood world has seen; Hanks.
Maybe someday we will begin to hear a lot more and read even more stuff than we do about a certain Tom Latham.
As New Zealand begin their biggest 2023 World Cup challenge yet, Tom Latham will already be sure of the several he'll be up against in Rohit's team. 
What Latham will be up against
There's Jasprit Bumrah, first and foremost, who's picked 10 wickets already from 4 games, including a four-for against Afghanistan.
There's Ravindra Jadeja, the man whose golden dismissal of Steve Smith, the man in the golden jersey may have already become a candidate for the best cleaned bowled victim of the 2023 World Cup campaign.
And we have the likes of Siraj and Ashwin, one among them playing the games regularly and with a few wickets to his name even as the other, a bonafide cricket legend, is yet to be utilised fully.
Latham in the post-Guptill, Taylor era
At such a time with the BlackCaps operating in the post-Martin Guptill, Ross Taylor era where Williamson, the man with the midhas touch, is having his share of troubles with injuries one too many, someone like Latham lends solidify to an order that could panic under pressure.
Not that the Kiwis would or are known to buckle down under pressure, typically speaking, but imagine where would this line up be today against India if Latham, 870 one day runs to his name, weren't to play?
Phenomenon unrecognised?
Not that he's faced even a single delivery yet, but just imagine not having a Tom Latham in your ranks whose best one day score against Rohit Sharma's team already reads 145 while the average is 54 and lest it is forgotten, a strike rate of 94.
If anything, Tom Latham's done more to subdue India's spin prowess and subvert the medium pace efficacy than any other lad wearing the BlackCaps cap around him.
He dances down the pitch to seamers on occasions and uses the depth of the crease versus the spinners. And sometimes, he does both; seldom without purpose and never without the idea of considering New Zealand's priorities as his.
Tom's Hanks like essence with the bat
What we hardly notice but must, seldom focus on since junk cricket content is too often around is the sheer number of games that Tom Latham has played against hosts, India. 
Ask any four year old in a cricket-obsessed Indian family who the god of the game is and depending on what generation one belongs to, the answer may range, rather commonly, from Virat Kohli to Sachin Tendulkar to Sir Sunil Gavaskar.
But ask Tendulkar or Gavaskar themselves about the next best New Zealand batsman to Kane Williamson in the current firmament and they'd probably tell you it's Latham.
Not that Virat would be too interested anyway since the man of focus would much rather dwell on strengths of his side, spending time in curbing Latham than in appreciating him in the 'now.'
But here's the thing.
Latham's played a sixth of his one day international games against the team he meets at the picturesque Dharamshala ground: the mighty force called Team India.
It's taken the left hander 20 innings, not more, 4 in which he remained unbeaten to score those 871 runs.
Precisely speaking, for someone who took just sixteen odd innings to be in the nearabouts of 900 one day runs against a probing line up is anything but a mug with the bat unless you desire seeing cricketers succeeding with a mug held in the hands instead of an actual bat.
But poor jokes be kept aside, or was it that bad anyway, it ought to be said, Latham, 23 one dayers against India, would love to mark his 24th with a century or something like it.
Thus far, the understated hero of Kiwi batting, the man responsible for knocks like the 274* at the Basin Reserve Test, would quite like to emulate his world record batting effort against India, which came in 2022.
There can be 145 + reasons to regard Latham
Remember?
In an Auckland-one dayer, the gritty leftie struck India with a 145 to script a run chase for the ages.
In that November, 2022 contest, one held almost just a year back in the day, Dhawan, Gill and Iyer stroked sublime fifties, scoring 72, 50, and 80, respectively to take India to a very healthy 306 on the board.
In reply, and in a typically understated BlackCaps' one, Latham took his team over the line with a little over two overs to spare.
It would remain since the highest individual one day score by a New Zealander against India in one day international cricket.
With 5 sixes and 19 fours, each of which carried the whiff of typical New Zealand doggedness, Latham snubbed India but never rubbed his win over his opponents' face.
Na, the Kiiwis don't do such a thing. They're not fans of loudness.
Victories are gladly accepted and hard fought battles cherished; they aren't there to be flexed on an opponent's face.
Latham, the quiet batsman with a sense of studiousness about him would like to also remember what he brought to his team's cause when he first played a one dayer at the very venue where he's going to play a World Cup game in India.
The Oktoberfest of 2016 for the Kiwi
Anyone?
On 16, October, 2016, precisely over seven years and six days back in the day, the baby faced giant killer of New Zealand first played a one dayer at the Dharamshala ground.
And it seemed he accosted the challenge of playing amid the obvious nip in the air and serene breathtaking scenes that can cause lapse in concentration with glee.
A stoic 98-ball-79 guided the Kiwis to a not-so-mighty but something-to-fight-with 190.
In the end, Virat Kohli won the game for India doing Kohli things with the bat as he often does. But there was a sense of doggedness about Latham's effort that made its mark and got people talking.
However, all said and done, knowing his preference for action instead of engagement with words, Latham won't mind being underplayed or even ignored again in the next few hours as his side prepare to tackle and maybe even upset the hosts.
Though surely, he'd love to play a quiet and serious hand at that, wouldn't he?