The Sochi-bound race was beyond anything else, a redemption of sorts for the Russian GP itself. But, how is that?
So often called a venue that's produced dull, utterly one-sided results (not that it's been too hard to understand), that have been either predictable or uninteresting, it could be said the 2021 race was anything but that.
As a matter of fact, given the final three at the end of the contest, the 2021 Russian GP result was something no soothsayer would've predicted.
A great race for Carlos Sainz who stormed to capture the lead against a fighting Lando Norris, doing as well as capturing a third podium in the red in his very first season, Sochi had lots and lots to be proud of and marvel at.
Surprising results and an unpredictable grid at the end of the 53 laps being just one of the ingredients for a mega race.
But what were the key talking points from the 2021 Russian GP? Let's find out!
Hammertime clocks a hundredth race win: a feat beyond adjectives
His first victory coming in 2007 at Canada and his latest at Russia in 2021, Lewis Hamilton has been doing one thing quite consistently in Formula 1 and that's winning consistently for a period of nearly a decade and a half.
In between, there've been wins, wins and more wins, so much so that a few hours back, the Stevenage-born driver clocked his 100th career victory thus becoming the only driver in the seven-decade history of the sport to do so.
No wonder he's called Sir Lewis Hamilton. But much of that also stems from the fact that he truly epitomises the tattoo he's inscribed on the body: Still I Rise.
What could've been a finer demonstration of these three magical words than his P4 to P1 march at Sochi, which demonstrated the Mercedes driver's penchant to take massive strides forward amid pressure.
Hamilton entered Sochi trailing Verstappen, his arch-rival and as seen on a certain occasions, the nemesis even. But as the 36-year-old leaves the grid, he has retaken the lead of the 2021 championship, lunging ahead of the Red Bull driver by two points.
The lead might seem scant at the moment but Lewis Hamilton's efforts were anything but at Sochi as he marched past a struggling Lando Norris minutes before the checkered flag, demonstrating quintessential unflappability at a time where there was tremendous pressure.
Norris' loss was Lewis' gain and that's fair but then Hamilton, who started from outside the podium places to bag his 176th in Formula 1.
For anything, Lewis' race win is a testimony to his prowess behind the wheels. That's something that must be appreciated for this quality hasn't been subsided despite ceaseless pressure from Max Verstappen in a season where it's not been an out and out prevalence of the 'Hammertime.'
Don't lose heart, Lando
What if Lando had pitted for the inters? What if Lando had been bold enough, which he's so often been in a remarkably young career, to dive into the pits and then challenge Hamilton to retake track position that was his for the better part of the race?
These questions will continue to haunt McLaren and Norris himself for some time, but among the key talking points from the 2021 Russian GP was the fight shown by a 21-year-old who went wheel-to-wheel against the finest driver on the current grid, a seven time world champion.
Lando's compatriot, the one the McLaren driver wasted no time whatsoever in congratulating straight after a crazy race at Sochi despite being vanquished when he could've retreated to bitterness and dejection.
If there's one thing that Formula 1 needs today, more than ever, then it's drivers like Lando Norris- young, ebullient, fast but also well-meaning and mature beyond their years.
All of 21, let that sink in.
Norris will remain a firm favourite to bag a world title and probably more given the reservoir of talent he is. May greater success and along with it, the sense of bold decision-making, come to one of the brightest on the current grid.
Mad Max > wet weather and daunting on-track challenges
Verstappen started the race from the back of the grid having earned the penalty for having installed a new power unit for the contest. And yet, that he managed to find himself on the podium courtesy a P2 was an effort certainly laudable, not that it would bring any peace to Lewis Hamilton fanboys, who do conduct themselves in a fashion that their hero himself would not approve of on certain occasions.
This, however, doesn't mean the unsportsmanlike conduct at Monza where Verstappen didn't even turn back to see if Lewis was fine was any good. It was, indeed, pitiable and condemnable.
Yet, in some ways, the precursor to what was always going to be a heck of a contest at Sochi was already set by a list of penalties and grid changes, the latter happening right before the start of the 53-lap race, all of which made a wet and wild contest truly unforgettable.
But, Verstappen, who blazed past the likes of Bottas, lap 7, and later, a string of other drivers, to break into top five and that too, toward the fag end of the contest was something that stood out and must be appreciated.
This, however, doesn't mean that drivers who boxed towards the end of the race amid incessant rains didn't help Verstappen.
But then, wasn't Max always under pressure having started from the back of the field? Not that the Red Bull driver's troubles are going to get over anytime soon given it's Hamilton, not Verstappen, who's in the lead of the championship.
Forza Fernando Alonso
That Fernando Alonso, 41 next year, was running in podium places well past the halfway stage should offer light to the commonly drawn conclusion that Formula 1 has no space for 'old drivers' and that it is a sport that belongs to the youth.
Throw Alonso out and you turn a blind eye to some incredible deeds such as the 2021 Hungarian GP where the double world champion, soon to turn 41, stopped Lewis Hamilton, vying for an eighth world title for ten consecutive laps in an Alpine.
No prizes for guessing what Hamilton was fighting with. Just like there are no prizes for guessing who authored one of the key talking points from the 2021 Russian GP.
Running on a longer stint, Alonso kept himself in the hunt for points from the very beginning and was fast as hell on a track that over the years has earned disrepute for being insipid and uninteresting even.
But the Alpine driver, who started and finished sixth on the grid did more than just bag eight points; he finished, yet again, ahead of Esteban Ocon, the Frenchman garnering a lowly fourteenth.
Here's an example.
On Lap 32, the three men out in front and in that order were- Perez, Alonso and Leclerc with 21 laps to go. In the end, he did well enough to not lose track of the top ten ending sixth after a late stop.
To think that Alonso is ahead of the likes of Vettel, Raikkonen, Russell, Ocon, and Stroll to quote a few (where the driver standings are concerned) is remarkable in that 2021 is not only his comeback year in Formula 1's top flight, but it's the season where the Spaniard started with a DNF (Sakhir-bound Bahrain GP).
If that's not worthy of applause then what is?
From P13 0n the starting grid to P8 in the end, Mr. Bwoah's 'normal' race!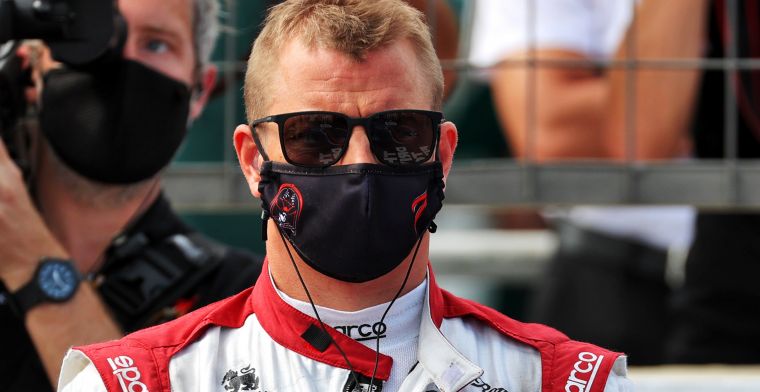 Raikkonen qualified sixteenth on the grid but as a result of penalties inflicted on Bottas and the likes, started the race from thirteenth, which wasn't the worst result for the soon-to-be 42 Finn.
But staying true to his penchant for exhibiting redoubtable race craft, much of which has formed the narrative during his Alfa Romeo stint, Kimi quickly made up a few places and found himself up on tenth.
This was not down to luck but pure effort, not that his detractors would care much and certainly not something Kimi would care about.
Though what was interesting from an Alfa Romeo perspective was that despite nearly bungling up the race for the most experienced driver on the grid, calling Kimi to box earlier than what he may have liked, the Iceman kept up the pace to fight the likes of Vettel and Ocon in the latter half of the race.
On lap 16, Kimi, who was until such time P7, pitted and rejoined the track on sixteenth.
He'd soon after, make a few moves and lunge ahead of the likes of Tsunoda and company.
Then, with a little over ten laps to go, Raikkonen passed Ocon for eleventh, somehow managing grip amid testing conditions to put the nose of his C41 ahead of that of the Alpine, which is when Ocon fought back valiantly.
But Kimi did well enough all this while to keep Vettel, in a faster Aston Martin behind. Not that he wasn't passed by the German driver with only a handful of laps to go, soon after which Valtteri Bottas in his Mercedes found an easy march past ahead of his fellow Finn, but due to a late stop by the two and Kimi controlling his race pace well, the 41-year-old driver was able to keep a fighting position inside the points, ending with a P8.
A mighty fine result for a driver described as laggard in the past, one driving not the fastest machine on the track?