Hashim Amla just turned 37 yesterday. He was last seen with a cricket bat in hand during the ICC Cricket World Cup, 2019. It's already been 10 months since "Hash" moved on from the game, in the same customary gentle fashion in which he'd emerged- first in Tests, circa 2004, and 4 years later, in the ODIs.
It's not hard to see how his exit has impacted South Africa, a team currently amid testing times trying to rebuild.
The Proteas lost to England in Tests at home, 2019-2020 series, which was a bit strange.
Wondering why?
Maybe the ease with which Root led his team to a comprehensive win may not have been possible on Amla's watch.
He wasn't just a consistent scorer against the English. He put his opponents under the hammer of his bat, scoring 1900 of his 9200 plus Test runs against them. Do the maths, nearly a fifth of Amla's runs in Tests came against England
Amla Could Have Thwarted English Assault
Had Amla been around and in the form with which he usually whipped England, it would've been an engaging site to see him battle Mark Wood and Ben Stokes, Jimmy Anderson, Stuart Broad, and Sam Curran- quintuplet tyrants who hounded his team so much that it led to Faf abdicating the captaincy altogether.
You understand a lot about cricket when its premier batsmen guide the sport to serene heights, especially during a time of crisis.
Picture Lara versus Sri Lanka in 2002-03 series. 688 runs against Murali and Vaas with West Indies being punched haplessly.
Picture Dravid against England during the 2011 India tour- 3 centuries culminating into 468 runs in the very series where India's gods and silky wristy batsmen flunked.
Hashim Amla: The Run Machine Against England
But never forget, Hashim Amla during his mighty exploits against a line-up comprising of Anderson, Broad, Finn, and Stokes in the 2016 Tests.
The great South African chose the very occasion to deny England the glory that may have clearly belonged to them, specifically Ben Stokes, for his fiery 258 off just 198. As the visitors crushed the Proteas through a daunting 629 in the first inning, Amla's response was typically classy and watchful.
A 201 off 477 deliveries, helped by Faf and AB scoring big runs, led to an inspirational comeback for the hosts.
South Africa conjured 627, nearly drawing level with England, fashioning a taunting comeback at the back of Amla's ingenious show.
Hashim Amla: The "blockathon"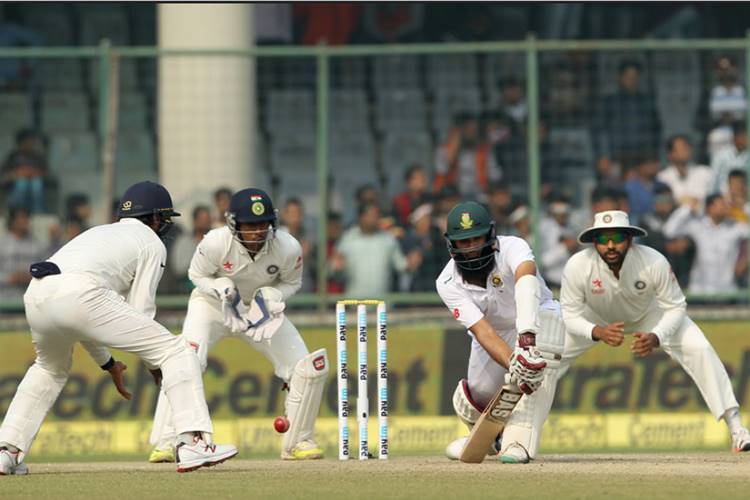 Maybe it was Hashim Amla's way of telling his opposite number- Alastair Cook- that "if you can cook our bowlers, we can barbecue yours."
A magnificent double hundred, at Centurion, came at the back of the (then) Proteas captain who didn't just score runs; but batted on and on.
And by the time the bearded genius walked back, he'd already spent 707 minutes on the crease. The blunt defense riling up Broad and Anderson who, in the absence of swing, rested on yorkers and a barrage of bouncers.
Alas, in the end, they'd only meet the excruciating site of Amla leaving one delivery too many for English comfort.
On a pitch where batsmen didn't have to sweat or slog for runs, watching South Africa's methodical architect in the middle was like witnessing a silent gladiator standing up to the Romans.
Nearly 2 and a half T20Is can be rendered complete in the timespan Hashim stayed put. In that regard, Hashim Amla, 28 Test centuries against his name, also epitomized the dying art of batting time.
Not that grinding England at home was the first time the right-hander demonstrated the rare quality. In 2015, during a ghastly defeat at the hands of India, in Delhi, with his team needing an improbable 481, Hashim Amla batted for 244 deliveries and 289 minutes for his 25.
An ordinary knock became extraordinary given a one-sided game where the writing was on the wall stretched onto the final day.
Not all sparks in the Proteas fire had to burn the others; some were tiny mutant ones that were enough to wane out opponents.
The Gentle Giant Of Proteas Cricket
Someone whose personality mirrored his batting style, it has to be said, the modern conception of the game is devoid of men.
This being an age where verbal volleys, crude mannerisms, and too much roleplaying in the name of being fighting adventurists make it rather easy to separate the boys from the men.
What the sport misses about Hashim Amla is not just his calm personality and gentle mannerisms alone.
It misses an extraordinary spectacle wherein alongside giants in Kallis, Steyn, De Villiers, Morkel, and Smith, his simple self conjured an equivalent of a South African safari.
A team one feared taking on, a side that wasn't easy to snub given its awe-inspiring stars.
This prompts a question.
Should Hashim Amla Have Stayed On?
Not really. The sight of a newcomer Jofra Archer felling South Africa's tall accumulator of runs in 2019 World Cup contest wasn't a pretty one.
Just the way it wasn't too inspiring to note that from the onset of 2015, a year synonymous for Amla notching up well over 1,000 ODI runs, there weren't too many runs coming.
Maybe it was wise to walk into the sunset, which may surely have been a tough call to make, just like for the fan it was tough to deal with the fact that in Cricket's premier event, in 2019, Amla made only 200 odd runs with just 2 fifties, his strike rater an underwhelming one at 64.
This wasn't the Hashim Amla that had plundered Ireland, in 2015 World Cup, on way to a rip-roaring 159 (also his best ODI score) that came off just 128 deliveries (4 sixes, 16 fours).
But like all good things must come to an end, even as the end, according to some, can be delayed like a suspenseful climax, Hashim Amla called time on his journey in 2019, but having played for a decade and a half.
And this wasn't before, he stamped his authority in both formats, contesting with cerebral powers and the ability to focus for long periods of time.
Something which may never have come easy, given he faced massive competition in both disciplines of the game.
That he collected some 19,000 international runs shouldn't be lauded alone for scoring dollops of runs. But more so since these came amid a climate of intense competition, wherein famous contemporaries included- Sachin to Kohli, Clarke to Smith, Gayle to Hope, McCullum to deGrandhomme, while those who targeted his stumps were greats: Johnson, Anderson, Zaheer, Herath, Lyon, Starc, Malinga, Roach among the others.
A Legend Who Shall Not Be Forgotten
And that being said, none of what Hashim Amla achieved- with zero arrogance and pure elegance- but also heightening sensory pleasure through silky strokeplay and enviable wristiness came amid times of transformation.
When he was a cricketing newborn, South Africa were safely in the grasp of Kallis and Smith where Steyn and Morkel were newcomers.
By the time Amla walked back, he's already done enough to inspire with a new generation that now has a quartet of newbies- Malan, Hamza, Klaasen, and Nortje, (not to forget Pretorius).
In the middle, together with Faf, AB, Tahir, Philander, and Duminy, he resuscitated the Protea fire.
This was not only his mission in life but an avid philosophy to which he contributed as South Africa's Dark Knight.
List of some dazzling feats of Amla
| | | |
| --- | --- | --- |
| SI. | Name of record | No. of innings |
| 1. | Fastest to 7,000 ODI runs | 150 |
| 2. | Fastest to 6,000 ODI runs | 123 |
| 3. | Fastest to 5,000 ODI runs | 101 |
| 4. | Fastest to 4,000 ODI runs | 81 |
| 5. | Fastest to 3,000 ODI runs | 57 |
| 6. | Fastest to 2,000 ODI runs | 40 |
| 7. | Only second SA batsman to score 1,000 ODI runs vs England | The first batsman to do so, being Kallis |
| 8. | Only the fourth SA batsman to score 8,000 ODI runs | Others being AB, Kallis, Gibbs |
| 9. | 1,000 international ODI runs against various teams | These being West Indies, Pakistan, Sri Lanka |
| 10. | Highest and lowest ODI averages vs teams | Highest ODI avg of 88 v Ire, 33 vs Aus |
| 11. | Crossing 1,000 plus ODI runs in a calendar year | Came twice in his career, 2010, 2015 |
| 12. | Overall Test and ODI tons | 55, 28 in Tests, 27 in ODIs |
| 13. | Crossing 1,000 plus calendar runs in Tests | Thrice; 2008, 2010, 2012 |
Follow us on facebook for more sports updates