The International Cricket Council (ICC) has announced the ICC team of the decade in Tests, T-20s, and ODIs. The captaincy of the T-20 and ODI team has been handed over to Mahendra Singh Dhoni. Whereas, Virat Kohli has got the captaincy of the Test. Apart from Dhoni, Rohit Sharma, Virat Kohli, and Jasprit Bumrah have been included in the T-20 team. Apart from Indian players, two players each from Australia and West Indies and 1-1 player from Sri Lanka, South Africa, and Afghanistan have also been included in the team.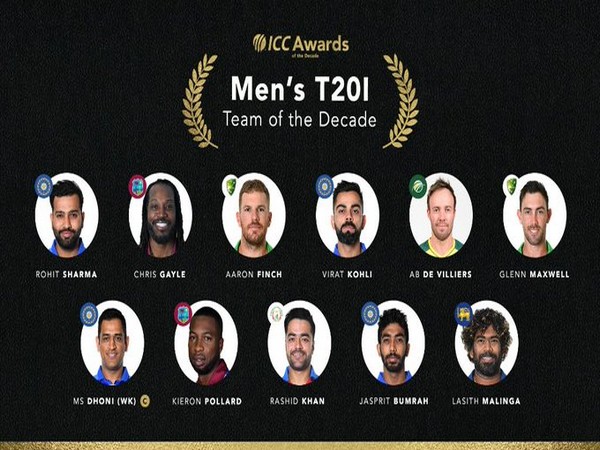 The T-20 team has two players from Australia, Glenn Maxwell and Aaron Finch. Chris Gayle and Kieron Pollard from the West Indies have been replaced. While Lasith Malinga from Sri Lanka, AB de Villiers from South Africa and Rashid Khan from Afghanistan are included.
3 Indian players including Dhoni in ODIs
Apart from Mahendra Singh Dhoni, Rohit Sharma and Virat Kohli have been included in the ODI team. Apart from this, two Australian players Mitchell Starc and David Warner have been included. Whereas, two African players AB de Villiers and Imran Tahir have been included. At the same time, Ben Stokes from England, Trent Boult from New Zealand, Lasith Malinga from Sri Lanka and Shakib Al Hasan from Bangladesh have been included in the team.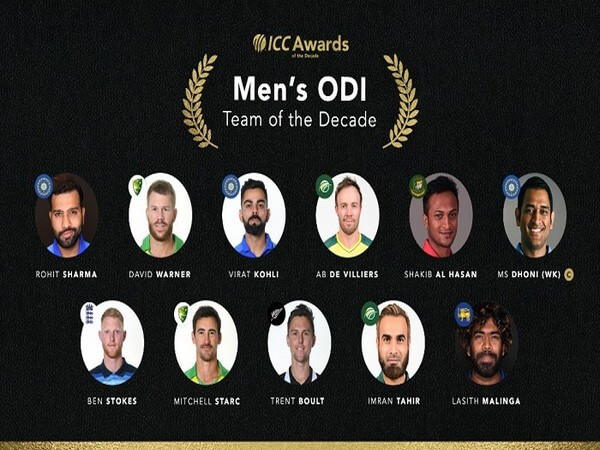 Kohli captain of ICC Test Team of the Decade
Virat Kohli has been named captain of the ICC Test Team of the Decade. Two great Test cricket batsmen Alastair Cook and Kumar Sangakkara have also got a place in the team. Cook has been selected as an opener with Australia's David Warner. Whereas, former Sri Lankan captain Sangakkara has been included in the squad as a wicketkeeper.
Current New Zealand captain Kane Williamson has been selected at number three. Kohli, Steve Smith, Sangakkara are at number four, fifth and sixth. Ben Stokes has joined the team as an all-rounder. There is only one spinner in the team as Ashwin. The pace bowling team is headed by Dale Steyn of South Africa, James Anderson of England and Steward Broad.
Dhoni retired from international cricket on 15 August
Mahendra Singh Dhoni announced his retirement from international cricket on 15 August this year. He has scored 1617 runs in 98 T-20 matches at an average of 37.6. At the same time, in 350 ODIs, he has scored 10773 runs at an average of 50.58. However, he has scored 4876 runs in 90 Tests at an average of 38.09.
Dhoni is the only captain in the world, under whose captaincy the team has won all three major ICC tournaments. Team India won the World T-20 in 2007, the World Cup in 2011 and the Champions Trophy in 2013.
Follow us on Facebook for more sports news & updates