Borussia Dortmund star Jadon Sancho seems to be on the verge of joining Manchester United. After being linked with several European heavyweights, the England international could complete his move to Old Trafford soon, as per the reports.
According to multiple sources, Jadon Sancho is close to agreeing on a five-year contract with the Red Devils with an expected weekly wage of £3,50,000.
Moreover, Manchester United are set to offer Sancho their iconic number 7 shirt, which has been made famous by the likes of George Best, Eric Cantona, David Beckham, and Cristiano Ronaldo.
Although born and raised in south London, Sancho is well familiar to the northwest part of England as the prodigy spent two years at Manchester City's academy before making his move to Dortmund in 2017.
At Dortmund, Sancho made a name for himself with a return of 34 goals and 43 assists in only 93 appearances across all competitions.
So, with Jadon Sancho heavily linked with a possible move to Old Trafford soon, here is how Ole Gunnar Solskjaer could use him.
#1 Jadon Sancho as a left-sided winger in a 4-2-1-3 set up:
One of Jadon Sancho's main traits is his ability to cut inside from the left-hand side, and Ole Gunnar Solskjaer could make the most out of his abilities by deploying him in a left-winger's role, with Marcus Rashford or Anthony Martial leading the line.
Known for his pace, low centre of gravity, and dribbling skills, Sancho feels much more comfortable when deployed in a natural winger's role.
By starting Sancho in a left-winger's role, Manchester United can also nurture the development of another exciting talent, Mason Greenwood, who prefers playing on the right-wing.
With Bruno Fernandes and Paul Pogba marshalling the midfield, Sancho can become the cutting edge that the Premier League giants are looking for, and Solskjaer could use the 20-year-old in a wider role, starting in the left.
#2 Jadon Sancho as a number 10 in 4-2-3-1 set up: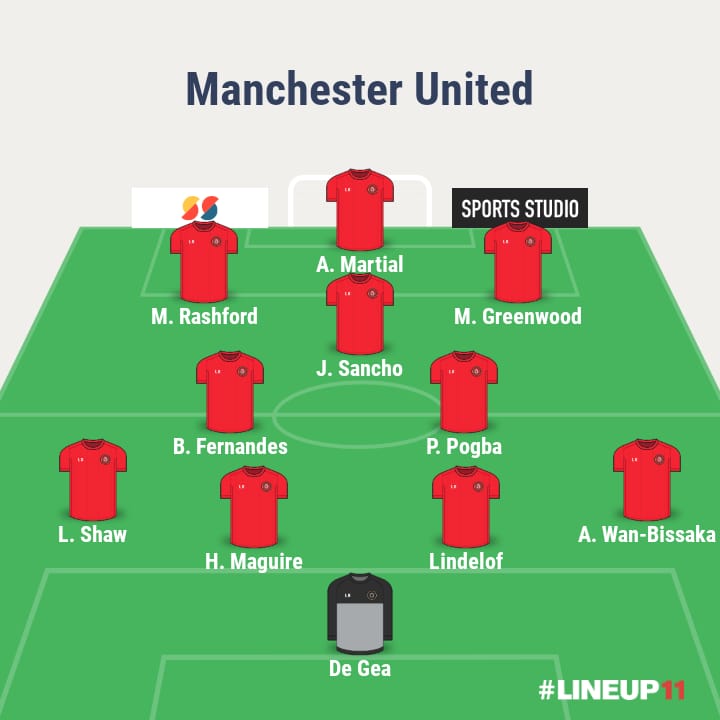 Ole Gunnar Solskjaer may choose to adopt a 4-2-3-1 set up by starting Jadon Sancho in a number 10 position, giving him a free role just behind a lone striker. With Marcus Rashford and Mason Greenwood on both wings, and Anthony Martial up front, Sancho has all the abilities to thrive in this role and make the spot his own in years to come.
The Dortmund star is blessed with a sharp footballing brain and can pick out passes that very few can pull off. Sancho can operate in the playmaker's role, with Bruno Fernandes and Paul Pogba playing just behind the prodigy, providing some much-needed defensive screening to the back four.
Although it seems unlikely that Solskjaer would deploy Sancho in a number 10 position, given Bruno Fernandes has done exceedingly well in that role since arriving at Old Trafford, there is no doubt that the Englishman's ability to play behind the striker will provide an extra layer of flexibility to the system.
#3 Jadon Sancho as a left-sided winger in a 4-2-1-3 set up:
Jadon Sancho could play on the left flank as he has often done in his Dortmund career. Ole Gunnar Solskjaer could use Sancho on the left-hand side of the field, given he is a natural winger.
Dortmund manager, Lucien Favre has used the England international mainly on the left-hand side of the field, with the freedom to switch sides whenever needed.
Sancho managed to find the back of the net for 17 times and provided 16 assists while starting most of the matches on the left-flank for Dortmund this season.
So, Sancho can start on the left and end up on the right, with Marcus Rashford going the other way around for Manchester United.
Moreover, this slight tweak won't change United's philosophy of operating with Paul Pogba and Nemanja Matic or Scott McTominay in the middle of the park, with Bruno Fernandes pulling the strings slightly higher up the pitch.
Also Read: 3 ways Arsenal can line up with Willian